✅ NEW - get your business listed and your information shared across social media.
Kaduna State Governor, Nasir El-Rufai during an appearance on CHANNELS TV Programme 'Hard Copy' denied having any Presidential ambition.
The Governor made the denial when he was asked if his recent involvement in different controversies had anything to do with a 2019 Presidential ambition. The Governor said his ambitions are not political and he has never had a political ambition.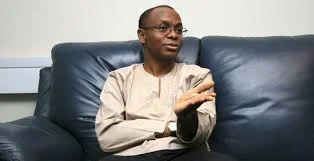 ''I have had academic ambitions because i'm being driven by excellence in academics
''I've been accused of wanting to run for President since 2007, that is why Yar'Adua exiled me, why Jonathan persecuted me and from the moment i joined the CPC to work with Presidentg Buhari everyone arround him told him came because i want to run for president.''
''I don't want to run for President, i didn't want to run for governor until President Buhari told me to go and run,'' El-Rufai said.
''I care about Nigeria but i have never had any political ambitions''
See video below: