EyiloreOluwa Omigbodun, a 15-year old student of Olive Branches Middle and High School, Osogbo, Osun state. EyiloreOluwa is the Global President of Children's Board, Plant-for-the-Planet, a global movement to combat climate crisis by planting trees around the world. Young EyiloreOluwa is the first Nigerian to occupy that position, he shares the joy of protecting the environment, and representing the country in the global scene with
Nigerian Bulletin
on our
Weekend Spotlight.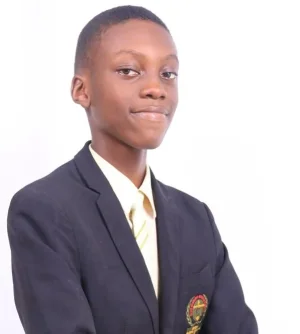 ----
Can we meet you?
- My name is EyiloreOluwa Omigbodun. I am fifteen years old, and the out-going President for Plant for the Planet Children's Global Board 2015/16 and a newly elected member of the Plant for the Planet Youth Global Board 2016/17.

What's Plant-for-Planet? Do you see it working in Nigeria?
Plant for the Planet is a global organization that was started by the then nine-year-old Felix Finkbeiner in 2009 and assisted by UNEP, to help stall the effects of climate change. Today the initiative is known all over the world. The organization strongly believes that to do this , the children and youth should be at the forefront of such issues and fight for climate justice. Over the past seven years we have planted over 14billion trees and have thousands of children and youth actively involved in the initiative. Our goal is to plant a 1000 billion trees in the next five years

What inspires you?
A lot of things inspire me - Simple day to day activities, what goes on around me, trending events and information... These are the things that inspire me. I got some inspiration from the activities we were mentored to undertake in the ANGELS-NET that I was also President of. It is the Youth and Children's network of ANGELS Foundation for Good Environment and Improvements of Living Standards in Nigeria - a Non-Governmental Organization, NGO. I was further inspired to become a member of the Plant for the Planet Board when I realized that Climate Change is indeed real and not some trivial issue, which we the citizens of the world have to combat. Also,the realization that as a young person, I can offer my services towards stalling the effects of climate change inspired me a lot. From a general perspective, my love for humanitarian and NGO work also inspired me.
How did you emerge as the President?
My emergence as President of the Global Board for PLANT for the Planet was mainly based on three things: The Grace of God; The environment and the school I attended; My writing skills and abilities, and experience in NGO work.
A sane human being would know that it it is only God's grace that can take an individual to heights even that individual can't even imagine he could ever occupy. It was only God's grace that ensured my emergence as President, Plant-For-The-Planet, through the votes of other members the world over.
Also, I went to a school which puts high emphasis on children participating in NGO work through the ANGELS-Net and other co-curricular activities.(Olive Branches Middle and High School, Osogbo, Osun, Nigeria ) The school played a key role in my emergence because Plant-For-The Planet was welcomed to come to my school in the first place to establish an academy. It was from there I took interest in the programme and went online to know more about the initiative. I then found out that they were having elections for their board about then.
I wrote an essay,which was part of the requirements, and expressed my wish to be on the board. There was later a voting process, and to the glory of God, I was voted into the Board. Elected members of the Board from different Countries had another round of elections to pick the President and I was voted in for the post - the first child from Africa to be so elected.

How do you combine being a President to a Student?
It was not easy. I had to be available for meetings, travel to other continents if I had to, go for programmes both in Nigeria and Internationally, and still had to balance that with a lot of school work and examinations. During my tenure as president thus far, I have written about several examinations, including WASCE, GCE, NECO, JAMB, SAT, TOEFL, Post-UTME, School Examinations etc. Yet I had to still be present at functions and programmes around the globe. To the glory of God,I have been able to scale through the challenges.

Any Awards/Laurels so far?
No awards or laurels yet for me.


What are the benefits for Young people like you who may want to be part of the network?
The first benefit is the fact climate change could be stalled and of course that the world could be a better place if only we join our hands together and face the problem squarely.
Another benefit is that you have a connection of friends all over the world who have like minds and share the same interests with you.
Yet another benefit is the strengthening of speaking and writing skills and invitations to global conferences like COY , the Plant for the Planet Youth Summit,and other United Nations Conferences.

What have you done as contribution towards Sustainable Environment?
I believe that my contributions towards a sustainable environment include the planting of over two thousand trees accross the state of Osun in one year, and still counting, and inspiring others to plant trees. Also making others informed that climate change is indeed real and we need to all join hands together to stall its effects.
What do you think of young people taking up leadership position?
Young people taking up leadership positions is a good thing because we are the leaders of tomorrow and we need to show the world that we are a formidable force on the face of the earth for change and progress and that indeed young people are destined for great things.

Aside from Plant-for-the-Planet, what do hope to do in future?
I will most definitely want to work with the United Nations and maybe even be on their youth board. I am still a little younger than the age to actually do much about that, but by next year, God willing,who knows? I could have become a member of their board.
EyiloreOluwa has just gained admission into Obafemi Awolowo University, Ile-Ife, Osun state where he is studying Architecture.
[2319]