✅ NEW - car park, swimming pool, 24 hours light/security and more.
Governor of Ekiti state, Ayo Fayose, has urged President Muhammadu Buhari to grant unconditional release to former National Security Adviser (NSA), Col. Sambo Dasuki (retd) and leader of the Indigenous People of Biafra (IPOB), Nnamdi Kanu.
The governor made this statement in the state capital, Ado Ekiti yesterday, through his Chief Press Secretary, Mr. Idowu Adelusi. He urged Buhari to reciprocate the mercy of God upon his life by showing mercy to Sambo, Kanu and others.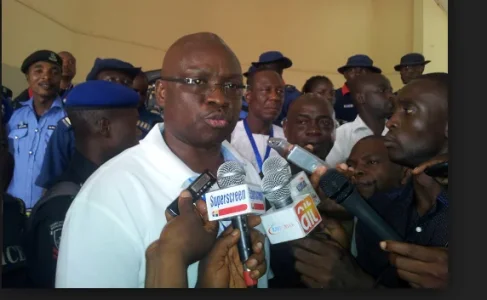 Thanking God for the president's return in good health, which he said was all at the mercy of God, and particularly, as a result of the prayers of Nigerians who have made this to happen, the Ekiti governor told Buhari:
"It is, therefore, incumbent on you to show mercy on Nnamdi Kanu and Sambo Dasuki, who have been granted bail already by courts of competent jurisdiction, and such other Nigerians who are suffering unjust, punitive, illegal, and unconstitutional incarceration.
"Allow all those who have been granted bail by the court to enjoy their bail while their trial continues. This is the right, just, and merciful thing to do, especially now that your good self is looking up to God for mercy.
"Those of us in authority must not be seen to be using our God-given powers to oppress the citizens placed under our care.
"The citizens' fundamental human rights must not be taken away.
"In the spirit of Nigerians praying for your full and quick recovery, kindly show mercy as it will only cost you humility to show mercy to those people who deserve it.
"If we do not forgive, we ourselves will not get forgiveness. If we do not pardon, we will not get pardon. President Buhari, I enjoin you to please pardon Kanu and others, so that Nigeria can move forward.
"If you heed to this advice, I can assure you that it will yield positive dividends to your government and I want you to know that I am speaking the mind of Nigerians on this matter," the governor added.