Governor Ayo Fayose of Ekiti State yesterday lambasted president Muhammadu Buhari, saying that God is angry with him.
Fayose, who spoke with journalists in Abuja on Tuesday itemised the lists of elections held under the present government, stating that power belonged to the God and and should not be abused by any individual no matter how highly placed.
"The president superintended over elections that were remarkably bloody".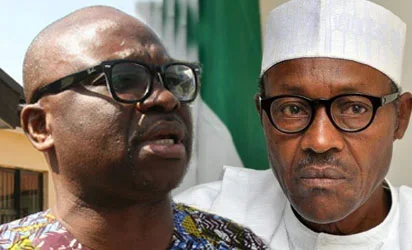 He said: "I am telling you the truth. Power doesn't come from anywhere. God rules in the affairs of men. Oppressing, bringing and cutting people down, taking their blood, God is angry. The way this government is taking people down, God is angry. God isn't happy. Go to Rivers, they kill people. Go to Akwa Ibom, they kill people. Go to Bayelsa, they kill people, incarcerate innocent people. God is angry with Buhari".
"You can't continue to take the blood of the innocent. Look at my predictions for the year 2016 for Nigeria, everything has come to pass. This is a different ball game. He that will take me, he that will go against me must first of all defeat God. If these were the kind of violence that greeted Buhari's election would he ever be president", the government asked.
Source: Vanguard
[1529]