The Governor of Kastina State, Alhaji Aminu Masari has claimed that Nigeria would have been plagued into serious socio-political and economic crisis going by "the huge mess created by the former President Goodluck Jonathan-led government for five years," if President Muhammadu Buhari had not been elected in the 2015 presidential election.
Governor Masari, who hails from the same state with Buhari, in an exclusive interview with
THISDAY
on Wednesday said he is very proud of the achievements of the president.
"Of course, I am very proud of him and proud of what he has done in the past two years. When we came in 2015, 27 states were not paying salaries, and President Buhari came up with different bailouts."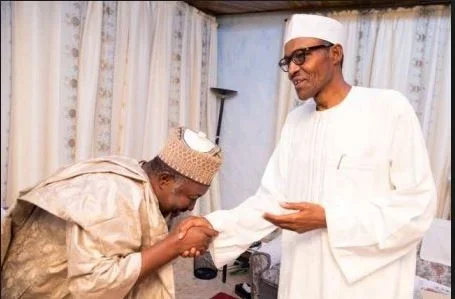 Masari stated when asked if he was proud of two years of Buhari-led administration.
The former Speaker of the House of Representatives wondered what would have happened if there were no interventions from the Buhari-led federal government to help stabilise the system at the time the APC took over power at the federal level.
According to him, "If we did not have Buhari as president, we would have been in serious crisis with the way President Jonathan and his people messed up the economy, politics and the entire country.
[1428]