✅ NEW - get your business listed and your information shared across social media.
Minister of Information, Alhaji Lai Mohammed, has clarified that his comment on the economic situation being out of the control of President Muhammadu Buhari was misrepresented.
He was reacting to a story -
Buhari No Longer Controls Nigeria's Economy - Lai Mohammed on ThisDayLive
This was contained in a statement by Mr. Segun Adeyemi, Mohammed's Special Assistant (SA) on Information and Culture.
Below is the excerpt beginning with the question by the interviewer.
"
Question
: The free fall of the Naira in the last three weeks has been very discomforting and a lot of people are asking a lot of questions and some people even say wow, it has never been so bad. Has government been able to discover (the source of) this untoward development?
Lai Mohammed
: I think it is clear why the naira is today in a free fall. You see, what are the factors that determines the exchange of the naira? It is your export and import; your trade balance and the general economy. Unfortunately we have not been fortunate in any of these, which is about 70 percent of all our total earnings. Before now, oil was selling for about N100 per barrel; today it is about N30 per barrel. And if you look at the cost of production, it has remained about the same.
We have lost about 70 percent of all our income and not only was oil responsible for all our income, it was also responsible for about 90 percent of all our foreign exchange, which makes between 90 -80 percent of our source of foreign exchange.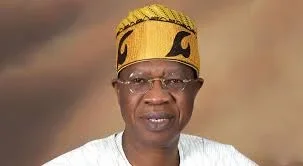 And naturally there will be more pressure on the Naira and less dollars and more naira chasing the dollars and now look at the balance of trade – it is negative. What do we do with trading and how much did we buy from Britain, for instance, and how they buy from us,. Unfortunately, it is negative. We take more from them than they take from us. If a country suddenly loses about 80 percent for its source of forex, clearly that currency will be in trouble.
The only way out is what the government is doing, which is strengthening the economy, diversifying it, plugging all the loopholes and making sure that only the essential things are imported. It will be extremely difficult, no doubt, but we are also in a state of emergency economically. You see, take for instance, your earnings reduced from N100 to N30 per month, something will have to give way…like relocating to a smaller house and I mean this is a reality.
The fact that the government is even still managing this situation, I give credit to the government,
because the situation is completely beyond their control, and this is where people have been mischievous…
Today we live in a global community, Nigeria cannot determine the price of oil or gas. And that is why the presiident has gone spending countless nights lobbying, rallying other oil-exporting countries on how do we stabilize the oil price…. "
- ThisDayLive