Nigeria -
Justice Danladi Yakubu Umar is the Chairman of Code of Conduct Tribunal (CCT). He's in charge of the false asset declaration case of Senate President Bukola Saraki.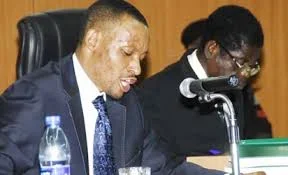 1. He was born on August 19, 1971 in He's from Toro Local government of Bauchi State.
2. Justice Danladi is the youngest chairman to be so appointed for the tribunal at the age of 40 - he was born on August 19, 1971 in his hometown.
3. His appointment went through the nomination and recommendation of National Judicial Council as well as Federal Judicial Service Commission before the approval of ex President Goodluck Jonathan.
4. His appointment was to bring in dynamism, vigour and energy of youthful leader to bear in dispensation of justice after he had successfully served as acting chairman of the tribunal before the recent confirmation.
5. He studied Law at the University of Maiduguri before his call to the Nigeria Bar in 1993.
6. He had practiced in various reputable chambers including Ayinde Sani and Co, Ibrahim Umar and Co and Kanu Agabi and Associates before joining the Federal Civil Service as Senior Legal Officer Federal Ministry of Justice.
7. Later he became Assistant Legal Adviser in some ministries including the Federal Capital Territory and Culture and Tourism respectively.
8. He was also a Chief Magistrate in Bauchi State
The new Chairman of CCT, in the course of his studies and working career has related and benefitted from the knowledge of highly respected international legal and judicial officers and earned experience that would enrich his position.
Credits: Economic Confidential
[18322]