✅ NEW - get your business listed and your information shared across social media.
Top militant leaders, who have been causing havoc in the Niger Delta recently in oil depots in the South-West, have laid out conditions under which they would stop the renewed bombing of oil installations and embrace peace, Vanguard reports.
The militants told Vanguard in Abuja that:
they would only drop their arms when the Minister of State for Petroleum, Dr. Ibe Kachikwu, meets and negotiates with them.


One of the top leaders, General Levi said that they would not want to back down until the Petroleum Minister meets them and secures amnesty for their members to avoid being persecuted by security agencies.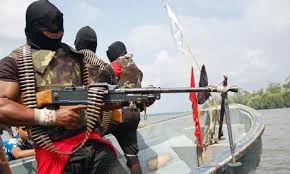 According to Vanguard, the militants issued the position after a secret meeting involving their leaders from the Niger Delta and their counterparts in Alepo, Agric, Epe, Ikorodu, Itoki and Igbokoda areas of Lagos.
The militant leaders also said after meeting with the minister, they would thereafter take over the responsibility of tracking and exposing those bent on causing further destruction to all facilities and meting our appropriate punishment to them.
"We have been pleading for amnesty since the days of the President Jonathan's administration but nobody took us into consideration and we're ready to work with the new administration to bring about an end to oil bunkering and pipeline vandalisation in the Niger Delta region and the South-West", he said
The bombing of oil installations in the Niger Delta commenced last week as militants blew up major oil and gas pipelines in the area.
-
Vanguard