✅ NEW - get your business listed and your information shared across social media.
Strong indications emerged over the weekend that the Central Bank of Nigeria (CBN) is set to inject more foreign exchange through intervention segments of the market thereby heightening expectations that the Naira will appreciate significantly during the week.
This development is coming as President Muhammadu Buhari jet out to the UK for follow up of his medical treatment after 50 years of returning.
The naira had appreciated from N520 to $1 to N455 to $1 under the leadership of the Acting President, Yemi Osinbajo when the Central Bank of Nigeria relaxed foreign exchange policy late February 2017.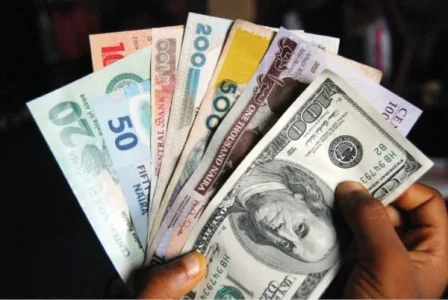 The expectations became rife following the inability of the authorised dealers to fully subscribe to various amounts offered by the bank on two consecutive times last week. Those two events alone sent jitters to currency speculators perceiving dollar glut as imminent in the market.
The spokesman of the CBN, Mr. Isaac Okorafor, confirmed the anticipated interventions in most segments of the market during the week, with effect from today, Monday.
According to him, the Bureau De Change (BDC) and the Small and Medium Scale Enterprises (SMEs) along with other major segments would also receive the adequate intervention with a view to providing liquidity in the entire foreign exchange market.