✅ NEW - get your business listed and your information shared across social media.
Troops of 158 Task Force Battalion of 5 Brigade, Nigerian Army have arrested two suspected Boko Haram terrorists carrying out surveillance on Kareto and Dangalti villages.
This was revealed in a statement signed by the Director Army Public Relations, Brigadier General Sani Kukasheka Usman.
The statement adds that, "Preliminary investigation shows that the apprehended spies were on a mission to facilitate possible attack on the communities by Boko Haram terrorists.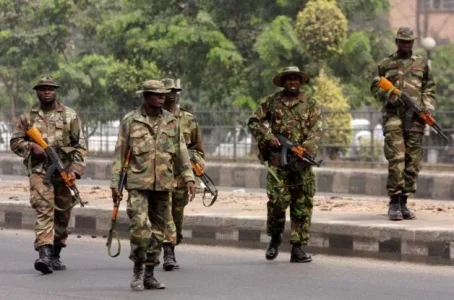 "One of the Boko Haram terrorist belonging to Mamman Nur's faction, Bulama Kailani Mohammed Metel, under the leadership of Abu Mustapha surrendered himself to troops of 145 task Force Battalion, 5 Brigade at Damasak".
It has been confirmed that the surrendered suspect, Bulama Kailani Mohammed Metel, a high profile terrorist, had been on the Nigerian Army's Wanted Boko Haram terrorists poster recently produced, with a serial number 253.
He is currently undergoing further interrogation.