The Nigerian Army on Friday claimed victory in its skirmish with secession agitators across the South-east.
The announcement followed the conclusion of a one-day tour of the region by the Chief of Army Staff, Tukur Buratai, who inspected ongoing operations and participated in a military medical outreach for residents.
"The usual violent activities of the outlawed Biafra "National Guards" (manning check points and extorting money from traders and motorists) have now been checkmated. Similarly, the outlawed Biafra terrorists group presence is no longer visible and people go about their normal businesses without fear, let or hindrance," Sagir Musa, a Nigerian Army spokesperson, said in a statement.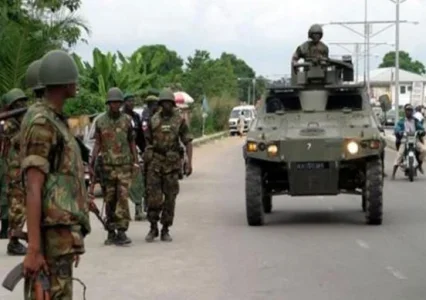 Members of the separatist group began making inroads into several towns across the region following the release of their leader, Nnamdi Kanu, in April.
The military launched an offensive last week to curb the activities of members of the Indigenous People Of Biafra, IPOB, who have recently intensified campaign for the secession of the Igbo-dominated region from Nigeria.
The Buhari administration approached the court for approval to proscribe IPOB in accordance with the dictates of the Terrorism Act.
- PremiumTimes
[6447]