✅ NEW - car park, swimming pool, 24 hours light/security and more.
The Nigerian Army has denied reports that of Nigerian Soldiers killing 17 herdsmen in Southern Kaduna.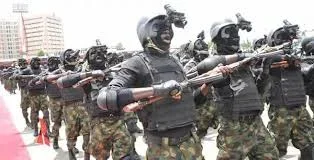 READ:
Nigerian Soldiers Allegedly Kill 17 Herdsmen In Southern Kaduna
Army spokesman, Brigadier General Kukasheka Usman, said the allegations were untrue.
"The allegation is most unfortunate and it is not true. It is most uncharitable and irresponsible of anyone to say so," he said.
"Our soldiers have been selfless, professional and impartial in the discharge of their duties. The extent of our sacrifice and determination to bring peace and security is unquestionable.
"They should not in any way drag us into their propaganda. The unfortunate incident would be investigated and the whole world will know the truth."