The Senate on Wednesday confirmed the nomination of Mr Godwin Emefiele as the new Governor of the Central Bank of Nigeria (CBN).
Emefiele is to take over from Malam Sanusi Lamido Sanusi in June at the expiration of his tenure.
Emefiele promised to use the "Development Banking Model'' to drive economic growth and development in the real sectors of the economy to the benefit of all Nigerians.
"We would ensure that whatever decisions we take at the CBN in the Monetary Policy Committee (MPC) would be those that would lead to improvement in the level of employment in Nigeria.
"I would not spend any money in contravention of the law.
"We would ensure that we work with the manufacturing companies to ensure that we improve on their level of production and ensure that we improve and achieve economic growth in Nigeria.
"The Development Banking Model is a model that has been tried and tested in different jurisdictions in the world.
"In fact in some of the frontiers and emerging markets in the world, we have seen development banking used as a tool towards achieving economic growth, development and industrialisation," he said.
He said under his tenure, the CBN would foster a harmonious working relationship with the Ministry of Finance to ensure unity of purpose in the policy implementation.
"It is important that both the Ministry of Finance and the CBN move in one direction.
"The Central Bank of Nigeria is the monetary authority whereas the Ministry of Finance is the fiscal authority. It is important that in their relationship, they must work in one direction.
"So, we expect that there should be a collaborative relationship where they are both ready to work together for the common good of Nigerians," he said.
The CBN Governor-designate further announced that he would take all necessary steps to stop the use of dollars as a legal tender for financial transactions within Nigeria.
"I will take it as a primary responsibility to ensure that the attempt to dollarise the Nigerian economy is discouraged.We should not allow it because it would create problem for the economy, " Emefiele said.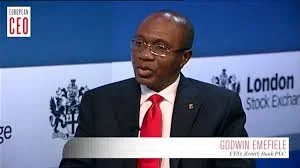 [1299]