✅ NEW - get your business listed and your information shared across social media.
Aggrieved Soldiers reportedly threatened to kill Deputy governor of Borno State, Usman Durkwa over the weekend.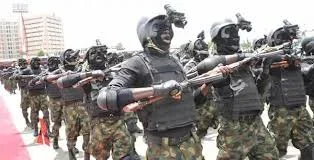 THE CABLE reports that the incident occurred at Buni Gari town in Gujiba local government area of Yobe. Durkwa who was returning from Adamawa state reportedly ran into the military checkpoint, where no soldier was in sight. One of his police aides reportedly attempted to remove a barricade on the road, at that moment soldiers emerged and questioned why he wanted to dismantle the barricade.
One of the soldiers was said to have used the butt of his gun to hit the policeman on the head.
"The soldiers took positions from different directions, aiming at the convoy, with the threat to open fire," a source said.
"The soldiers pointed Ak47 riffle, anti-aircraft guns and one of them was pointing a rocket propeller.
"The deputy governor, having seen what was going not after they had denied him access for about 15 minute, came down from his vehicle to interfere, but instead of showing him respect, the soldiers became more lawlessness.
"They said they don't care about his office. They insulted and called him all sort of names. One of the soldiers, who pointed gun at him, called him a bloody civilian and political thief. They said they won't lose anything killing the deputy."
It took the intervention of senior military officers to allow the Deputy Governor go free.