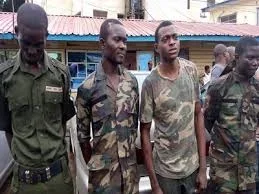 The Lagos Commissioner of Police, Fatai Owoseni paraded four fake soldiers arrested at Idi-Araba, Agege and Mile 2 areas of the state yesterday.
They are John Izunwanne, 25, John Otu, 23, Richard Acha, 22, and Simon Anthony, 39.
Materials recovered from them included: two pairs of the Nigerian Army camouflage uniform; a pair of Army uniform, Army camouflage T-shirt, a pair of boots, two Army belts and two jungle hats.
Anthony told reporters that he was dismissed from service as a corporal for falling out from duty.
"I was dismissed in January 2014 for falling out from duty. I am from Adamawa state. I wanted to use the uniform to travel to Lagos because I had no transport money. But unfortunately, I was arrested by soldiers," he said.
Acha, a welder from Benue State, said he found the camouflage T-shirt inside the bag his brother gave him at Ikeja cantonment.
"I wore it. I was arrested for wearing the army T-shirt," he said.
Izunwanne said he bought the uniform at Ojo Cantonment on September 2.
- TheNation
[1898]