The Nigeria Defence Headquarters has disassociated itself from online reports that 800 Boko Haram members had been granted amnesty.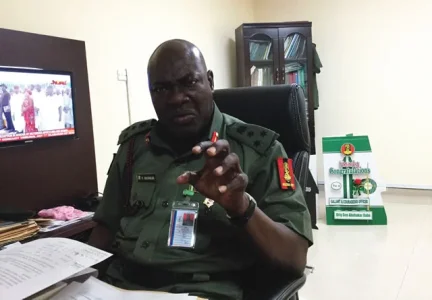 It said the story was false and called on the public to disregard it, stressing that it would not tolerate acts of terrorism or criminality by any group.
According to the DHQ, the decision to rehabilitate repentant members of Boko Haram is based on a United Nations convention and could not be considered as amnesty.
A statement by the Acting Director, Defence Information, Brig. Gen. Rabe Abubakar, in response to the report, read, "The attention of Defence Headquarters has been drawn to online Media stating that 800 Boko Haram Terrorists were given Amnesty. The story is false and has no iota of truth in it as DHQ has never mentioned Amnesty in all its statement.
"In line with United Nations convention Charter, which Nigeria is a signatory, The Defence Headquarters came up with an initiative "Öperation Safe Corridor", this initiative is geared towards rehabilitating and reintegrating the repentant terrorists back into normal life in the society.
"Therefore, the general public should disregard these insinuations as the initiative "Operation Safe Corridor" should not be taken as Amnesty."
"We hereby emphasise and stand our position that no act of Terrorism or Criminality will be condoned in our nation by any group. Please be guided."
Source: Punch