✅ NEW - car park, swimming pool, 24 hours light/security and more.
Residents of Big Daddy Street in the Atinplome, Bagadry area of Lagos State on Tuesday stormed an uncompleted building in the area, which they suspected to be a ritual killer's den, after a female victim raised the alarm, PUNCH reports.
It was gathered that at about 12am, while a carnival went on in the area, a woman in her late 20s, whose name had yet to be known, had run into the party with her throat partly cut, while blood was streaming out of her body.
The girl, who later became unconscious and was rushed to a private hospital in the area, told the partying crowd that an alfa, identified as Mallam Sheu, had tricked her into the uncompleted structure before slitting her throat with a knife.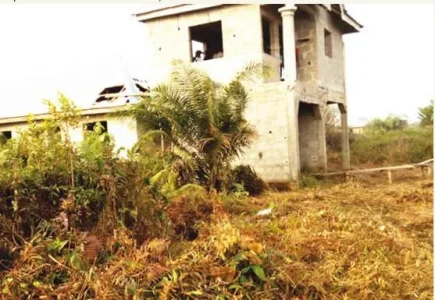 The matter was said to have been reported at the Morogbo Police Division, and some policemen
came to the scene, but the alfa was said to have fled the uncompleted apartment.
It was learnt that in the morning, more residents thronged the area and they were said to have found bloodstains, old clothes, charms and ladies' clothes inside the structure.
Speaking with PUNCH, a resident who identified herself as Mummy Eso, said youths in the area attempted to burn the den in the afternoon, thinking that the girl had died as a result of her injuries.
Mummy Eso added that the alfa did not stay in the area and nobody suspected that he used the place for evil purpose.