✅ NEW - get your business listed and your information shared across social media.
The Senate on Wednesday vowed that the Nigeria Postal Services, NIPOST must be brought to life.
In a motion sponsored by Senator Gilbert Nnaji (PDP), Enugu East Senatorial district, detailing operations and development of postal services, he sought the Senate's repeal of the bill for its advantages.
"A bill for an Act to repeal the Nigeria Postal Service Act, to provide for the operations and development of postal services, the establishment of Nigeria Postal Commission and for related matters, 2017", Nnaji submitted.
In his contribution, Senator Atai Aidoko (APC), Kogi East Senatorial district expressed disappointment at the level of decay in NIPOST. He explained that across the world, postal services was still relevant.
The lawmaker emphasised that the reform as envisaged would boost economic and social services in a manner that it will also provide security data for relevant security agencies.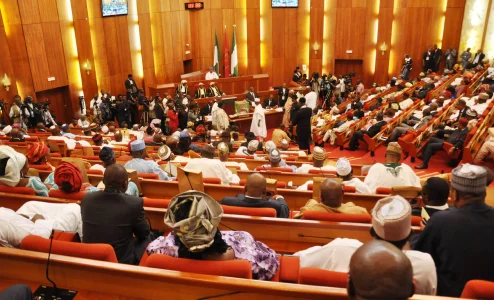 While contributing to the Bill, Senator Solomon Adeola Olamilekan said when the Committee visited NIPOST head office, he discovered that there was nothing left of the agency any more.
He suggested that the Senate should do all it can to revive it.
In his ruling, Deputy Senate President, Ike Ekweremadu stressed that NIPOST was still relevant despite the revolution of social media that tends to take away some of its services.
He added that the reform would generate jobs for young Nigerians as well as its financial benefits, while it passed through second reading.
"I want to congratulate Nnaji for the bill, I think that NIPOST is still very relevant despite the advent of social media and more so that it will generate jobs and revenues," Ekweremadu maintained