Sokoto State governor, Aminu Tambuwal, has established a Due Process Office that will ensure efficient and effective monitoring of all public contracts and other related duties for the overall interest of the people of the state.
Mr. Tambuwal on Monday approved the appointment of Kabiru Haliru as the Executive Secretary of the new outfit.
A statement in Sokoto by his spokesperson, Imam Imam, said the outfit, known as Public Procurement and Price Intelligence Unit, will lead to efficient utilization of public resources by ensuring that such resources are effectively deployed and best value obtained at all times.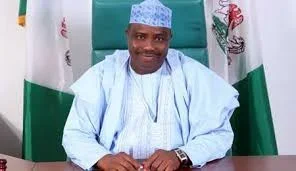 It said the new office will also promote prudence, transparency and accountability in government spending, particularly in the procurement of goods and services.
"In addition, the new office will promote professionalism in the execution of the procurement functions and streamline quality control practices.
"The Due Process Office will also promote competition and transparency in project procurement leading to low and efficient cost of projects", he said.
[1788]