A suspected bank robber, Aitlabor Gelebele was arrested with explosives by the Ogun State Police Command claims he uses the explosives to catch fish in the river as a fisherman.
"I used the explosives to kill large number of fish in the river and then sold them". He told journalists at the scene.
According to the police authorities, Gelebele and three others – Moses Demene, Friday Saborom and Mohammadu Kaidiri - were arrested while planning to rob a bank in the Ijebu Ode area of the state.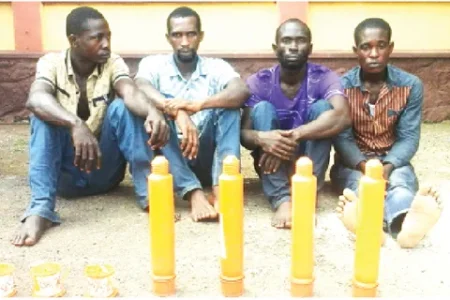 The Deputy Commissioner of Police in charge of Finance and Administration, Celestine Okoye, said the suspected robbers were arrested last month with four explosive devices and connection wires.
He explained that bank robbers usually use explosive devices to blast bank security doors.
But Gelebele denied any knowledge of the robbery operation, explaining that the explosives were used for fishing in Delta State before Demene called him that he was ready to pay N150, 000 for the devices.
According to him, he agreed to sell the explosives because he needed money to take care of his pregnant wife.
He said, "I normally use the explosives for fishing by putting the explosives in the water and then connect them to wires.
"When the explosives go off, they shock the fish to death and I catch them."
In his reaction, Demene who identified himself as the leader of the gang, said he was aware of a robbery plan on a bank in Ijebu Ode and had to call Gelebele who was in the possession of the explosives.
He said they were on their way to meet the leader of the gang after alighting from a bus from Delta State when a commercial motorcycle rider suspected them and invited the police.
The police boss, Okoye, said all the suspects were coming from Delta State to meet another leader of the gang simply identified as Wisdom who was planning a robbery operation.
The police boss explained that the case was still under investigation and the suspects would be charged to court at the appropriate time.
He said, "Information was received by policemen on patrol at Ayepe town that a gang had been seen with bags and on getting the information, they were intercepted by the team.
"When they were searched, four explosive devices with three connection wires were recovered from them. The suspects confessed that they were coming from Delta State to meet their gang leader named Wisdom in Ogun State, now at large, to rob."
The police also paraded a member of a trans-border robbery syndicate, Atevonou Sesco, who was arrested after successfully snatching a Toyota Sequoia with number plate, EPE 956 DP, in Ilase, Idiroko area of the state.
Okoye explained that efforts to get the owner of the vehicle had yielded no result which gave the impression that the owner might have been killed in the operation.
- PUNCH
[1000]