Family of the detained promoter of Radio Biafra, Nnamdi Kanu have urged the Federal Government to order the release their son from detention that they are not even sure of him being alive.
His father, the monarch of Isiama Afaraukwu in Umuahia North Council Area of Abia State said he was surprised at the prolonged detention of his son.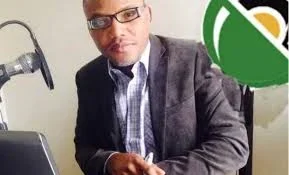 Addressing journalists at his Ome Udo Palace, Eze Israel Kanu, flanked by his wife, Ugoeze Nnenne Kanu, said that they were worried at the ordeal their first son has been passing through.
"I am surprised that my son is being detained. I have been asking why he is being held without getting an answer," Eze Kanu lamented.
The monarch further lamented that the agony of the family has been compounded due to their inability to have access to the detained activist, noting that they are not sure that he is alive.
"My son is an adult and fully matured to be able to express his mind on any issue".
Nnamdi's mother, Ugoeze Kanu who also spoke, said that, she wondered why he should be made to suffer for saying the truth.
"The Bible tells us that truth shall set us free. But in Nigeria we are being made to understand that truth is bitter and can even lead to death.
- Vanguard
PLACE YOUR ADVERT HERE
Connect with people interested in education, social, crime and health News!
Last edited:
[1944]