✅ NEW - car park, swimming pool, 24 hours light/security and more.
A 90-year-old woman in Akwa-Ibom State, Agnes Akpan, has revealed that she has never had sex with any man in her life, not even in the dream world.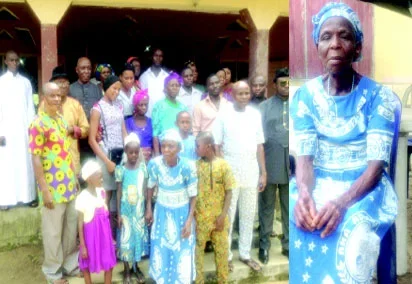 The woman reputed to have raised over 50 children at Ikot Udobia community, Etinan Local government area, Akwa Ibom State, was recently honoured by the people for her enviable life and devotion to humanity. Saint Pius Catholic Church, Ikot Udobia, venue of the thanksgiving service was full to capacity and the town agog, as community members assembled to make merry with the nonagenarian, who lived her life nursing children she did not give birth to.
The celebrant told NDV in an interview: "I have never known anything like man in my entire life, not to talk of a husband. I have never been married, no relationship with any man, no boyfriend even when I was young. I have never slept with any man as far as my memory can carry me, not even in my dream state.
On why she never had sex all her life, she said that her condition growing up never allow that.
"I was born partially blind, no man saw anything good in me, so I grew up without the feeling of a man. When I was much younger, reverend sisters staying at the Convent School at Ikot Udo Ntuen made me to embrace Christianity. Every Sunday, they came to our house to pick me and brought me back in the evening. Those were the kind of friends that I had. No immoral discussion, it was all about Holy Mary and the child of God, Jesus.
Asked if she has any regret, she said: "No, no regret. In the first place, I do not know what to regret about, my belief is that I was created by God to live and die without a husband, child and anything I can call my own. I see things in and around me as normal. I never hated men neither did the men hate me, but we never met. "I lived my life the way you see me. No feeling for a man. I do not see it as either normal or abnormal. Maybe I will get better answers from God when I eventually transit to meet my Creator. But I know I was created by God not to get a man in my life in the name of husband or children. I do not know the meaning of men frustration and broken home. I do not have any of painful past."
On her interest in raising children, she asserted: "I enjoy taking care of little children between the age four to 10 years. Mothers who have children will drop them with me when they are going to farm, market or to fetch water. I will take care of them until they return to take their children. I feed them and keep them happy as long as they stay with me.''
Story by Vanguard