✅ NEW - get your business listed and your information shared across social media.
President Muhammadu Buhari may soon drop no fewer than 10 cabinet ministers.
Some Ministers may also be asked to swap portfolios in 2017, according to Vanguard sources.
The
Presidency is yet to drop hints on the identities of the 10 Ministers
that will be dropped but when Nigerian Bulletin checked through some of President Buhari's ministers, here are 10 ministers the president may be dropping or change the portfolio for the next two years in office.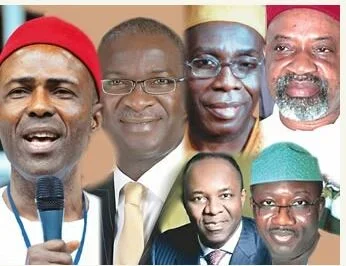 1. Minister of Transport; Rotimi Amaechi:
Throughout this year, Nigerians cannot differentiate if Rotimi Amaechi is the former governor of River states or a Federal Minister. The manner at which he meddles in his state politics make it worrisome of its continued service as a Minister. Also, Amaechi this year was accused of gross-corruption.
2. Minister of Youths and Sport Development - Solomon Dalung
: The red-beret Minister has throughout the year been in the eye of the storm. It is of the incapacity of a minister to man the Nigeria Sports Ministry, despite giant strides in various sports. Under him, Nigerian athletes have been disappointed, embarrassed on various occasions, with inaction and disparaging comments from him. Ranging from inability of the Nation's team to fly to various competitions owing to visa issues; non-payment of allowances, and all. The latest of his controversies being the non-payment of allowances to the Super Falcons after AWCON win
3. Minister of Finance; Kemi Adeosun.
There have been so many calls this year for President Mohammadu Buhari to relieve Ms. Kemi Adeosun of her ministerial duty as the nation's economy has not fared well under her watch. It can be stressed that even though the country is in recession, the situation would not have been worse off if the economy has been better managed.
4. Minister of Women Affairs; Aisha Alhassan:
Taraba-born Senator Alhassan was away from her ministerial duty for a number of times due to ill-health. Media reported that Alhassan underwent orthopaedic treatment in the United States of America. Being away for too long should have been enough motivation for Alhassan to hit the ground running as soon as she returned. But Mama Taraba has not fared well on Women issues this year.
5. Minster of Communications; Adebayo Shittu:
The controversy that surrounded the MTN fine exposed the lack of managerial qualities of the Minister of Communications. The problem trailing the role of the Ministry in the out-of-court settlement by MTN Nigeria, and its payment of N50 billion to the Federal Government still remains unaddressed. For over one year in office, the only ideas coming out of the Ministry is tax improvement on various telecommunications and not quality of services or abnormal messages chunk out of the telecommunication. The Minister's shortcoming include the introduction of taxes on phone calls, text messages and data tariff hike while telecom operators are yet to develop their bandwidth as well as improve quality of service for the end users. The minister of communications seems to be finding it difficult with his current portfolio.
6. Minister of Works, Power and Housing, Babatunde Raji Fashola
was known for his versatility and hardwork when he was the governor of Lagos state. But, shortly after his appointment as the Minister of Works, Power and Housing, Mr. Fashola seems overburdened with the pressure of the three giant ministries although within shortest period, the Nation recorded peak megawatt of electricity supply but has also recorded total shutdown more than twice.
7. Minister of Niger Delta Affairs; Usani Uguru:
The continued crisis rocking the Delta region, coupled with the blasts of oil installations have not been greeted with proactive measures from Mr. Uguru. In a Spetember 2016 report published by Sahara Reporters, Mr. Uguru Usani, was indicted for fraud and abuse of office during his tenure as a commissioner in Cross River State. Usani along with a firm, Gersh Henshaw & Company, defrauded the government of about N16m through a contract for the valuation of the assets of an agency under his ministry.
8. Mallam Mohammed Musa Bello (FCT):
The minister of the Federal Capital Territory (FCT) was throughout the year 'absent' in power. Since he assumed office, it has been complaints in the FCT, as many residents ask if there is a Minister in the nation's capital. Under Bello's watch, the city is returning back to its pre-El-Rufai days, when chaos was the order of the day. The minister is however a very popular face in the Nnamdi Azikiwe International Airport as he is always bidding President Buhari goodbye to his numerous foreign trips and welcoming him back too.
9. Minister of Trade, Investment & Industry - Okechukwu Enelamah:
Trade and Investment should be rescue options for a country plunged in economic recession. Little seems to have been done by the Minister to salvage the situation, with several industries folding up, investors running away, and stringent trading options.
10. Minister of Education, Adamu Adamu:
There were several calls by Nigerians for President Buhari to sack Adamu. More specifically, the Academic Staff Union of Universities (ASUU) asked President Muhammadu Buhari to sack him because he is insensitive and lacks commitment to reversing the dwindling Nigerian education sector. ASUU added that Mr Adamu failed to engage with the union on its repeated demands and correspondences. Also, a non-governmental organisation, Concerned Citizens for Educational Development, CCED, decried some of the recent actions and policies of the Ministerwhich it claimed were impacting negatively on the education sector.
Minister of Environment - Amina Mohammed:
She performed well but the President may replace her with another candidate due to her new assignment with the United Nations

Minister of State for Labour – James Ocholi (deceased):
The president will also use the opportunity of cabinet resufflement to seek another candidate for the Kogi slot
Last edited by a moderator: