✅ NEW - car park, swimming pool, 24 hours light/security and more.
The European Union Deputy head of Delegation to Nigeria and Ecowas said on Monday that 7,436 Nigerians crossed into Europe from Nigeria illegally in the second quarter of 2015.
Young explained that the figure was the number of irregular migrants that were officially recorded by the EU Border Agency, Frontex.
He said that out of the 7,436 immigrants, 7,124 illegally crossed through the sea borders into Europe during the period.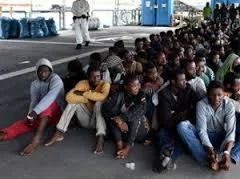 He said the agency recorded a total of 170,155 migrants that illegally crossed the borders into Europe from various countries in the period. "In this situation, they are referred to as irregular immigrants in the sense that they crossed the border illegally but may have a right of asylum.
"After all investigations are done and it is found that they do not have the right of asylum, then they are referred to as illegal immigrants," he explained.
The envoy disclosed that EU had earmarked 1.8 billion pounds to set up an emergency trust fund for stability and addressing root causes of irregular migration and displaced persons in Africa.
According to him, the fund is set up to address the crises in the regions of the Sahel and Lake Chad, the Horn of Africa and North Africa.
He said that the meeting would build on existing frameworks of cooperation to address the root causes of migration, establish and organise legal migration channels.
He said that the meeting would also focus on ways to enhance the protection of migrants and asylum seekers as well as tackle exploitation and trafficking of migrants.
The official added that the meeting would also improve on policies on the return and re-admission of illegal migrants.
He also confirmed attendance of the 34 African countries invited to participate in the summit. "We have invited African countries we have agreements with on migration; half of them would be represented at the levels of Heads of State and Government while the others would be represented at the ministerial levels.
"Out of 28 EU member states, 22 will be represented at the Heads of States and Governments," he said.
He added that the African Union, ECOWAS and other regional economic communities across Africa would also be represented at the summit.
The official reiterated the commitment of EU to assisting African countries in building stronger migration policies and addressing root causes to migration.
- PM News