Brent crude hit a two-week high near 112 dollars a barrel on Monday as internal strife in South Sudan threatened the country's oil output, adding to supply woes in Africa.
South Sudan's government said on Sunday rebels had seized the capital of a key oil-producing region.
Fears grew of an all-out ethnic civil war in the world's newest country that could cut off its 245,000 barrels per day (bpd) oil output.
This could add to the one million bpd of lost supply from Libya where key oil ports were shut by a group demanding greater autonomy for the country's eastern part.
February Brent crude edged down four cents to 111.73 dollars a barrel after gaining 2.7 per cent last week.
It touched a high of 111.93 dollars earlier in the session. U.S. crude for February delivery was at 99.01 dollars a barrel, down 31 cents.
Libya's oil minister said on Saturday force should be used to reopen key oil ports in the eastern part of the country which have been closed for five months.
Worries about short supplies have caused the oil market's pricing dynamics to shift, with prompt delivery oil rising above prices for future delivery, Saudi Arabia's oil minister said on Saturday.
The minister played down suggestions that the kingdom was ready to cut production.
Oil rises supported by expectations of stout fuel demand at the world's largest oil consumer after the U.S. economy grew at fastest pace in two years in the third quarter.
U.S. gasoline prices hit a three-month high on Friday, buoyed by refinery strikes in France and refinery glitches in the United States.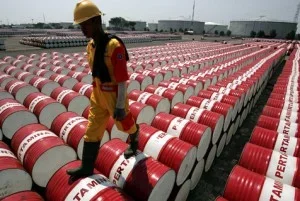 [902]