The Economic and Financial Crimes Commission (EFCC) has said the Department of State Services (DSS) refused to release its personnel for questioning over investigation into the arms procurement saga.
EFCC spokesman, Wilson Uwujaren, said this in a statement yesterday, adding that it is not strange for the anti-graft agency to invite other law enforcement agents alleged to be complicit in any case being investigated by the commission.
He said there are protocols in doing this, "and part of that protocol is to write to the heads of such agencies, requesting that the officer(s) in question be released to be interviewed."
He said, in the course of investigating the arms procurement scandal in the Office of the former National Security Adviser (ONSA) Col. Sambo Dasuki, the commission has had cause to request the release of officers of other security agencies.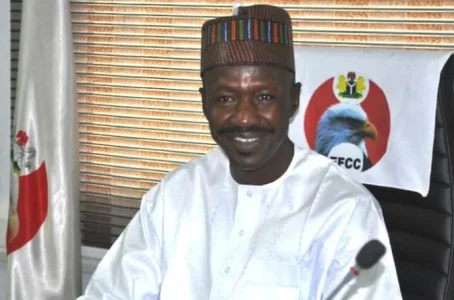 He said these included "the Nigerian Army, the Nigerian Air Force, the Nigerian Navy and now the DSS, for questioning. All but the DSS have acceded to this request."
"For the avoidance of doubt, the arms procurement investigation is national in outlook with alleged culprits cutting across the military, security establishments as well as the political class. It is not targeted at any institution," he added.
He said "the insinuation about a revenge-instigated investigation of the DSS by the EFCC over its role in the Senate's refusal to confirm Ibrahim Magu as substantive chairman of the EFCC is not only false, but pure mischief contrived for motives that are unclear."
PLACE YOUR ADVERT HERE
Connect with people interested in education, social, crime and health News!
[1426]