Minister of Finance, Mrs Kemi Adeosun, on Thursday in Abuja said that N443.6 billion was shared among the Federal, States and Local Governments in July.
The amount is 11 per cent less than the
N559 billion that was distributed in June.
Adeosun, who was represented by the Permanent Secretary, Mr Mahmoud Isa-Dutse announced this while addressing newsmen on the outcome of the Federation Accounts Allocation Committee (FAAC) meeting.
"The distributable statutory revenue for the month is N268.7 billion. The sum of N6.3 billion was refunded to the federation account by Nigerian National Petroleum Corporation (NNPC).
"There is a distribution of N1.3 billion excess bank charges recovered from 2008 to 2012.
"Also, there was the exchange gain of N70 billion and N36.4 billion arrears for May which were also proposed for distribution.
"Therefore the total revenue distributable for the month of April, including VAT of N66.9 billion, is N443.6 billion,'' she said.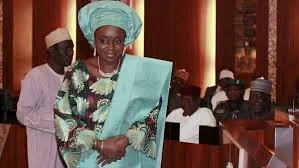 Breakdown of revenue among the three tiers of government:
Federal Government -
N129.2 billion
States -
N65.5billion
The local governments -
N50.5 billion
Oil producing states – extra
N12.8 billion
, representing 13 per cent derivation revenue
NOTE
:
Lagos state has not started receiving the 13 per cent derivation because the money has not started coming in yet, it is after the actual export that the money would be realised and it would be given the derivation.'
[7797]