Ekiti State Governor, Mr Ayodele Fayose has emerged as the new Chairman of the PDP Governors' Forum.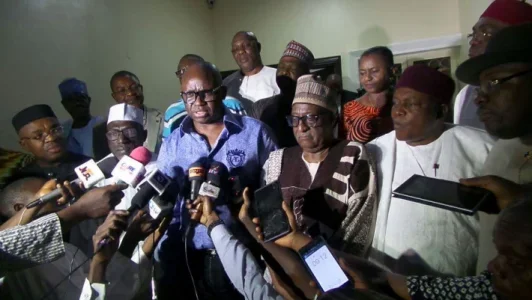 The Governor of Bayelsa State, Hon Serake Dickson announced this to News men in Abuja on Thursday night.
Addressing News men shortly after the Forum's meeting, Dickson stated that the forum decided to settle for Fayose based on his record of performance and as the most Senior Governor under the platform of the Party.
Flanked by other Governors present at the meeting and the leaders of the party, Dickson said that the Choice of Fayose was a collective one among the Governors.
Dickson played glowing tributes to the out gone chairman of the Forum, Dr Olusegun Mimiko of Ondo state for his immense contributions for the development of the Party during his tenure
In his acceptance speech, Fayose described his election as call to service and promised not to let the party down as the Chairman of the Forum. Fayose said that he was out to pull down the wall of Jericho surrounding the party with a promise to embark on total mobilization of party members nationwide ahead of the 2019 General elections.
He assured that the Party would work very hard to reclaim its lost States and as well formed the government at the Centre come 2019 .