✅ NEW - get your business listed and your information shared across social media.
Governor nasir El-rufai of Kaduna State has declared a state of emergency on tomato farming in the state, following the outbreak of a destructive pests.
The Commissioner of Agriculture, Dr. Maigari Daniel Manzo, who disclosed this at a press conference in Kaduna yesterday, said 80 per cent of tomato farms have been ravaged by a pest which blights tomato, called Tuta Absoluta.
Manzo said over 200 tomato farmers in three Local Government Areas of the state were affected by the destructive pests, adding that the farmers had suffered loses worth one billion naira in the last one month.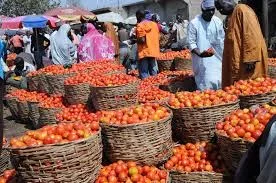 "I want to say that Governor Nasir El-Rufai has declared a state of emergency on tomato in the state. This is as a result of invasion of the crops by a pest named tomato blight botanically known as Tuta Aboluta.
"In the past one month 12 local government areas of the state who produce tomatoes have lost 80 per cent of their tomatoes harvest.
"In three local government areas about 200 famers have lost One billion naira worth of their tomatoes. So you can imagine the magnitude of the lose.
"It is so severe that even Dangote who has established a tomato processing plant in Kano, had to shut down production" the commissioner said.