Suleiman Hashimu, the man who trekked from Lagos to Abuja for President Muhammadu Buhari in 2015, says he will do it again, but this time not alone.
He told the News Agency of Nigeria that he is planning a march together with some youths to demonstrate their support and solidarity for the Buhari's actions so far.
He denied reports that he has lost faith in the president, saying the reports are quoted out of context.
The News Agency of Nigeria (NAN) on Thursday in Abuja reports that Hashimu renewed his commitment to always support the president because of Buhari's capability to solve the country's problems.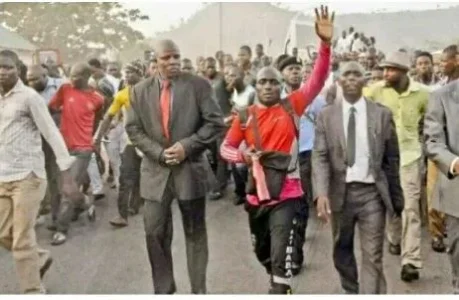 Hashimu trekked from Lagos and arrived Abuja on April 20, 2015, to redeem his promise of walking for Buhari if he (Buhari) won the presidential election.
"I woke this morning and some of my friends started calling and asking if I am aware of reports in the social media, claiming that I – Hashimu – have regretted trekking for President Muhammadu Buhari.
"It is not true. It is a rumour, false and a lie. I did not regret my action. If I have another opportunity to trek for President Buhari, I will do it again, even from Nigeria to anywhere.
"I do not regret my action – trekking for him. I am in support of everything he is doing,'' Hashimu declared.
[5346]