✅ NEW - car park, swimming pool, 24 hours light/security and more.
The All Progressives Congress (APC) said it has extended the deadline for the sale and submission of presidential, governorship, National Assembly and House of Assembly forms to Tuesday, September 11, 2018.
The previous deadline was Monday, September 10, 2018.....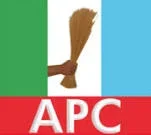 Read more via Nigeria News today & Breaking news ▷ Read Naija news 24/7 –
https://ift.tt/2QajW2p
Get More
Nigeria Political News
Last edited by a moderator: