Our obsession with what is commonly known as lifestyle porn is not a new thing. It is the way of movie stars and celebrities; however, thanks to social media today - everyone can be a star in their own show, fake or real. Before social media hit our shores, we had Ovation, City People and other magazines in Nigeria. Hello and OK Magazine were at the top of the tree internationally, even if they were not top shelf. They covered the celebrities, the ultra-rich and those associated with them.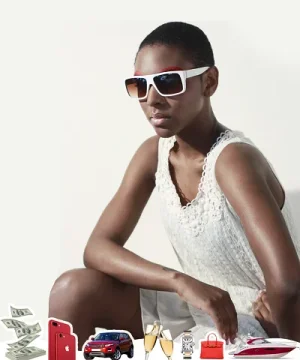 Today, you don't have to be rich or associated with the rich to obtain coverage. All you need is an idea of what wealth looks like and some coins to effectively fake it. ''Fake it until you make it'' – is the new motto. Some Nigerians have subconsciously made the popular quote a lifestyle mission statement. More and more young Nigerians make an increasing effort to fake success than actually working towards attaining it.
Material wealth and flamboyance are considered the surest signs of success in our society. Because our society puts great value on material wealth, we pretend to have it all in order to be taken seriously. We often laugh it off as ''packaging''.
Young people take out huge loans to pay rents for apartments well above their pay grade, in a market where cheaper alternatives abound. The luckier ones, mostly the entrepreneurs, use their first big earning to rent in very upscale areas, so they can ''network''.
We take car loans to buy rides we can't maintain. In cities like Abuja and Lagos, it is no longer uncommon to hear of people, mostly young men living in their cars. The car, considered a class statement is even more important than a home. All they do is find a safe spot to park at night, sleep in, shower at the office in the morning and keep living life until the day rent money adds up.
Faking success has led to unhealthy competitions and unnecessary lies. You buy the Aba version of your colleague's Armani and try to pass it off as the real thing. Some actually spend a chunk of money buying designer clothes they can barely afford or do not need – it's called looking sharp. You hang out in places you can't afford, so you don't look cheap.
This behaviour is even more common online, especially with the rise of social media platforms. We polish our lives so well that they often bear no resemblance with our everyday life.
Small victories should be celebrated, but we now exaggerate every tiny details. We make it seem like we're actually living the dream, when the truth is we're still struggling like the remaining 90 percent.
On LinkedIn, 90 percent of Nigerians seem over qualified for the jobs they do. We all have amazing certificates from Ivy League schools and great job titles. You attend a one week seminar or certificate course in Harvard, like Senator Dino Melaye and immediately list yourself as a Harvard Alumnus.
It's no different on Facebook. We all post happy family pictures, write inspirational posts guiding others to the path of success we've earlier found. A young man recently joked that his younger sister is currently a 'Chevron staff' on Facebook.
While at home or in our everyday workplace, our 'location' is turned off. However, once we have to deliver items on behalf of our boss to his friend in Banana Island, we quickly turn it on. We make sure to take really cute photos and post or simply send out a text post- either way; everybody gets to know we are in Banana Island.
Stupid arguments like ''don't marry if you earn less than 200k'' on Twitter also promote ''faking it''. If National wealth were measured via Instagram, Nigeria would be tagged as a rich country.
People constantly post receipts running into millions from night clubs and luxury shops. What do we need foreign aid for again?
Nigerian celebrities help make faking it look even more attractive. They show off photos of well-fed exotic dogs, kids draped in designers, houses that we only see in movies and luxury cars. They showcase a fantasy life, which is all part of their business. Singing duo, PSquare, show off their mansion and billionaire visitors like Aliko Dangote. Linda Ikeji shows off her Banana Island House and designer handbags. They make it seem like a norm to show off. ''They've worked so hard, now here is their reward.'' .
Others try to pass off false images as their belongings. Sadly, a lot of them get busted. Recently, Nollywood actress Oge Okoye was caught with her hand in the cookie jar. She was caught trying to pass off Kenya Moore's dogs as hers. Terry G was busted for showing off a fake Rolex wristwatch. Tonto Dikeh bought herself gifts and pretended they were from her husband. WizKid was shamed over his failure to pay rent for his Lekki home. Yoruba actresses, Kemi Afolabi and Seyi Ariyo engaged in a public brawl over borrowed clothes. Just recently, KCee was busted for photoshopping photos of money. The list goes on…
Sometimes they're successful in showing off until tragedy strikes. Whoever knew that MAVINS first lady, Tiwa Savage, didn't have N45million laying around until she gave the tell all interview on her marriage to Teebillz. Time and time again, Nigerians have been begged to contribute for the medical treatment of some super star. What ever happened to their Instagram wealth?
We also fake connections. You meet Aliko Dangote at a business event in the building where you work as a cleaner. You beg for a photo and put it online with the caption, "This is how we roll.''
The pursuit of success is an endless one. Success in itself is multidimensional and does not always translate to material wealth. Faking it, may have some advantages such as giving you access to certain rooms, but how do you maintain such access? Success comes with responsibilities, greater success- even more responsibilities.
Faking it often does not leave room for self-development towards attaining actual success. It can sink your finances as you often have to keep up appearances. It robs one of the chances of maintaining a healthy saving and investing in things that really matter such as health insurance.
When you fake it before you make it, it can deprive you of getting the help you really need. Everybody naturally assumes you have no problems and your life is a bed of roses. You automatically place yourself in the position of a problem solver.
If you invest the energy required to fake it, into making it, you may just make it.
Article by Juliana Morgan
Last edited by a moderator: