✅ NEW - get your business listed and your information shared across social media.
Zimbabwe's President Robert Mugabe has left the country for urgent medical checks in Singapore, the government said in a statement, two months after his previous such trip to the south Asian nation.
Mugabe, 93, flew to Singapore late on Monday.
President Muhammadu Buhari on Sunday night jet out for medical checks follow-up on his lingering health issues which has kept him out of official and state house officials for weeks.
Zimbabwean ministry of information said he was expected to return home at the weekend but President Muhammadu Buhari's date of return will be based on Doctor's recommednation, according to statement released by its spokesperson last Sunday.
Mugabe now struggles to walk, with security aides forming a human shield around him in public, often making it difficult for reporters to film or take pictures of him.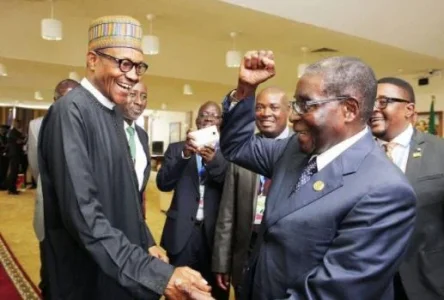 On May 4 at a World Economic Forum summit in South Africa, Mugabe sat slumped in his chair, wringing his hands, as he told a panel discussion in a low murmur that his country was not a "fragile state".
NAN reports that on February 17, Mugabe's wife Grace warned those aspiring to take over from her husband that there is no vacancy at the state house before God ordains his husband's retirement.
- NAN/NigerianBulletin