✅ NEW - get your business listed and your information shared across social media.
See list of 114 roads across the 20 Local Governments and 37 Local Council Development Areas in the State that will cost Governor Ambode N19bn to reconstruct in order to fulfill part of his campaign promises.
Ambode, who said the execution of the projects will be left in the care of the local governments, however, charged the Councils' Executive Secretaries to judiciously ensure that the projects meet international standard.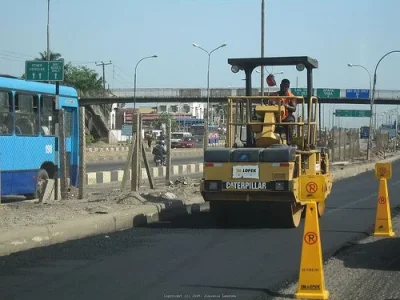 1 AGEGE
1A, JJ OBA REMO ROAD, AGEGE
1. Mathew Street, Mangoro
2. FAMUYIWA OLAYIWOLA STREET
2 ORILE-AGEGE
2 ARIGBANLA STREET, OFF IYANA IPAJA RD, ABEKOKO
1.OGUNDELE Street,
2.Fashola Street, Papa Ashafa
3 AJEROMI-IFELODUN
BAALE STREET, AJEGUNLE
1. Temidire Street
2.Molade Street
4 IFELODUN
3, DSPENSARY ROAD, AMUKOKO
1.Iludun Street, Amukoko
2.Itire Road, Alaba Oro
5 ALIMOS
AKOWONJO ROAD, OFF ROUNDABOUT
1.Jolaosho street
2.Alhaji Idowu street
6 AGBADO-OKEODO
ABEOKUTA EXPRESSWAY, OJA OBA, ABULE EGBA
1.Owodunni Street
2. Sotunde Street
7 AYOBO-IPAJA
IPAJA ROAD, IGBOGILA BUS STOP
1.Pako-Baruwa, two storey Road
2. Megida Olayemi Road
8 EGBE-IDIMU
ISHERI OLOFIN ROUND ABOUT, LASU-IBA ROAD, ISHERI
1. Community Road, Agodo
2.Council street Idimu
9 IGANDO-IKOTUN
1 BAALE COMPOUND, OBADORE
1. OSUNBA STREET, Igando
2.Balogun Olanrewaju Road, Ikotun Central
10 MOSAN-OKUNOLA
WATER BUS STOP, AKIN OGUN, IPAJA ROAD
1.Remi Ogunjimi
2. 41 Road Gowon
11 AMUWO-ODOFIN
41 ROAD, FESTAC TOWN
Adegbola Olujibi , Ado Soba Road
2. Eko Akete Road, Amuwo Odofin
12 ORIADE
MUMINADIO, BADMUS ROAD, IJEGUN-IBASA VIA SATELITE
1. Balogun Street, Kuje
2.Dillion street
13 APAPA
37 BURMA ROAD, APAPA
1.North Avenue
2. Caulcrick Road
14 APAPA-IGANMU
41 GASKIYA COLLEGE ROAD, IJORA BADIA
1.OBALE .Ln -Karimu Opeloye Road
2.AMOSU ST.
15 BADAGRY
TOWN HALL, BADAGRY
1. HUNDEYIN STREET, BADAGRY
2. HUNWI TANDE ROAD, AJARA
16 BADAGRY WEST
KANKON, BADAGRY
1.Apa Palace road
2.Kweme road
17 OLORUNDA
FORMER REST HOUSE, IWORO, BADAGRY
1.IWORO ROAD TO EPE JETTY
2. MOROGBO-JOSEPH STREET
18 EPE
ORITA MARUN, IJEBU-ODE ROAD
1. mallam batunre street Papa Epe
2.Ajijolaiya street papa epe
19 EREDO
EPE-IJEBU-ODE ROAD, EREDO
1. Ogbe/Iragunshin/Odogbawojo Road
2. Church Street, Odo-Egiri
20 IKOSI-EJIRIN
EPE-IKORODU ROAD, AGBOWA
1. Ajagbe Street
2. Hassan Odumeri street
21 ETIOSA
ETI-OSA EAST
KM52 LEKKI-EPE EXPRESSWAY
1.Busola Adalemo Street, Langbasa
2. Shola Omole Street
22 ETI-OSA
KM 15, LEKKI-EPE EXPRESSWAY, IGBO EFON,
1. Oba Elegushi road, Ilasan
2. Ologolo Road, Ologolo
23 IRU-VICTORIA ISLAND
1-7, MURI OKUNOLA STREET, VICTORIA ISLAND
1.Idowu martin
2.Prince Abayom Daramola
24 IKOYI/OBALENDE
24 GLOVER ROAD, IKOYI
1. Eleshin Road road
2. Ademola Road
25 IBEJU-LEKKI
LEKKI-EPE EXPRESSWAY, IGANDO OLOJA TOWN
1. Eleko -Iberekodo Road
2. Oribanwa to Lakowe Link Road
26 LEKKI
1 AYEGBAMI QUARTERS, LEKKI
1.Ojuoto/Ajegunle Road
2. Otolu Township Road
27 IFAKO-IJAIYE
AINA AJOBO STREET, OFF YAYA ABATAN, OGBA
1. Kayode street off Iju Ajuwon Rd Ogundimu
2. Odebiyi/dosumu street/Tunji rowaye
28 OJOKORO
9/11 AGBADO STATION ROAD, IJAIYE-OJOKORO
1. BIOYIN STREET, ALAKUKO
2. ADEMOLA ABIOLA STREET
29 IKEJA
2 OBAFEMI AWOLOWO WAY, IKEJA
1. Onilekere street
2. Olu Akerele street
30 OJODU
1-3 SECRETARIAT ROAD, POWERLINE, OKEIRA, OGBA
1.Abiodun jagun street
2.metal box road ACME
31 ONIGBONGBO
2/4 COMMUNITY ROAD, OFF ALLEN AVENUE, OPEBI, LAGOS
1. Etal Memunat Ayodeji street
2.Olorunishola street, mosafejo
32 IKORODU
IKORODU CENTRAL
OTUNBA T O S BENSON ROAD, IKORODU
1. Bolaji Benson/ Shoroga Street
ADENIJI OLUWAKEMI STREET
33 IKORODU NORTH
EWEYE ROAD, ISIWU
1. Jimoh Street
2. Federal Low Cost bye-pass to Itoikin Road
34
IKORODU WEST
LAGOS ROAD, OWUTU, IKORODU
1. Ojediran Street
2. TAIWO MOLAJO Street
35 IMOTA
EBUTE AJEBO ROAD, IMOTA
1. Watch Tower Street
2.IMAM SALISU STREET
36 IJEDE
1 MAIDAN STREET, IJEDE
1. May Flower Circle
2.Osenatu Ahmed Crescent
37 IGBOGBO/BAYEKU
27, OBAFEMI AWOLOWO WAY, IGBOGBO
1.Alhaji Oseni street
2. Kola Ogunkoya street
38 KOSOFE
OGUDU ROAD, OJOTA
1. OLORUNFUNMI street, Oworonshoki
2.Okeowo somorin street, Ifako Gbagada
39 IKOSI-ISHERI
IKOSI ROAD, KETU
1. Adebimpe road
2. Balogun Oyero Street
40 AGBOYI-KETU
AGBOYI ROAD, ALAPERE, KETU
1. Adedoyin street
2. Zion street
41 LAGOS ISLAND
64 FREEMAN STREET, ZAPASS BUILDING, LAGOS
1. Sanusi Olusi Road
2.Agarawu street
42 LAGOS ISLAND EAST
42 BROAD STREET, AJELE, LAGOS
1. EVANS STREET
2. THOMAS STREET.
43 LAGOS MAINLAND
2 ONDO STREET, EBUTE-METTA (WEST), LAGOS
1. Oloto Street, Ebute Metta
2. Bornu Way, Ebute Metta
44 YABA
198 HERBERT MACAULAY STREET, ADEKUNLE, YABA
1. Erejuwa street, Makoko
2. Omitogun/Igbore street, Iwaya
45 MUSHIN
82/84 PALM AVENUE, MUSHIN
1 ABORISHADE STREET, LAWANSON
2. Martin Street
46 ODI-OLOWO
TOWN PLANNING WAY, ILUPEJU, LAGOS
1.BURAIMOH/AWOYEJO
2. AKINOLA/AIYETORO STREET
47 OJO
OLOJO DRIVE, OJO, LAGOS STATE
1. Mosafejo/Ilufe Road, Ojo
Gloria Osenu Street
48 OTO-AWORI
KM 28, LAGOS-BADAGRY EXPRESSWAY, IJANIKIN
1. KETU ROAD
2.BABALOLA ILOGBO OKEAGBO ROAD
49 IBA
AYOKA, IBA TOWN
1. Seriki kemberi Street
2 Alhaj Rasaq Street, Iba
50 OSHODI-ISOLO
EJIGBO
NNPC JUNCTION, FORMER NRC BUILDING, EJIGBO
1. COKER/LAFENWA Street
2. IFOSHI/FADU ROAD
51 ISOLO
OSOLO WAY, ASWANI, ISOLO
1. LAFENWA PANADA STREET
ABIMBOLA-COWBELL ROAD
52 OSHODI/ISOLO
OYETAYO STREET, BOLADE-OSHODI
1. Kalejaiye street
2. Ogunyinka street
53 SOMOLU
SHOMOLU
DUROSINMI STREET, OFF OGUNTOLU STREET, SOMOLU
1. Okesuna street
2. Anifowoshe street
54 BARIGA
19 BAWALA STREET, PEDRO, GBAGADA
1. Omoalade Alafia street
2.Oloruntoyin/Jebina Street
55 SURULERE
SURULERE
24 ALHAJ MASHA ROAD, SURULERE
1. Michael Ogun/Durojaiye street
2. Aralile/Adedapo street
56 COKER-AGUDA
19/29 THOMAS ANIMASHAUN STREET, COKER –AGUDA, SURULERE
1. Bolaji Banwo Street
2.OPERE STREET, COKER
57 ITIRE-IKATE
13/17 BARUWA STREET, IJESHATEDO, LAGOS
1.FOLAWIYO BANKOLE STREET
2.JINADU STREET