Nigerian Naira, Monday fell against the dollar, trading at 282.33 to a US dollar, eleven official business day after the Central Bank of Nigeria removed peg on the country's currency rate.
The new foreign exchange policy has been greeted with various criticism despite Central Bank of Nigeria, CBN, and Citibank Nigeria Limited first Naira-Settled Over the Counter (OTC) Foreign Exchange Futures.
Naira traded 283.60 to a United States Dollar as of 11:15am in Lagos, nation's commercial hub, according to data retrieved from Bloomberg news.
At the close of the trading period, the Naira was spotted at N282.33 to a US dollar at the inter-bank market as against its valued at Friday of 282.13.

Naira Watch: Tracking Nigeria's Currency [Day 10]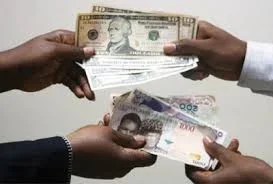 Friday- Closed: 282.13
Today Open: N282.13

High Rate: N282.60

Low: N280.10
Related: Nigeria's Economy Bleeds, Formally Slides Into Recession
[1242]