Comedian I Go Dye has likened Nigeria's present condition to what some women experience when they leave their relationship because of a new proposal from a new man.
I Go Dye made the analysis via Instagram. He posted a photo of himself with Former President Goodluck Jonathan and an interesting caption.
See photo: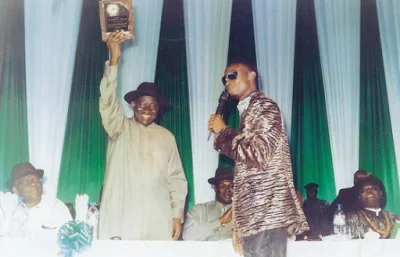 He wrote, "Nigeria is like some women in a relationship once they ve a good husband, like the president who is ready to transform the country, they will never be patient with him, they will complain and do everything that will make them leave relationship, because they ve seen a man putting on clean white clothes telling them sweet stories and fake promises that will make them smile all day, what they didn't take from their ex husband that made them left the relationship, they will bear the worst in silent and keep defending the fake guy with empty promises. Always value what you have.
PLACE YOUR ADVERT HERE
Connect with people interested in Entertainment News!
[1162]