There is an impending overhaul of the Nigerian military, to be effected in a 7 days by the newly appointed service chiefs, PUNCH reports.

Nigerian Army
Nigerian Army headquarters' 11 departments and six divisions will be affected by an impending shake-up.
These are the Directorate of Army Policy and Plans: Directorate of Army Training and Operations; Directorate of Army logistics; Directorate of Army Administration; Directorate of Army Standards and Evaluation; and the Directorate of Civil Military Affairs.
Directorate of Nigerian Army Welfare Limited/GTE; Army Transformation and Innovation Centre; Nigerian Army Military Secretary; Legal Service; and the Directorate of Army Public Relations.
The Army divisions that may be affected are 1 Division; 2 Division; 3 Division; 81 Division; 82 Division; and 7 Division.

Nigerian Air Force
Also to be affected are the seven service headquarters of the Nigerian Air Force, its four commands and 13 Direct Reporting Units.
The seven branches of the service headquarters are: Policy; Operations; Engineering; Log and Comms; Administration, Evaluation and Air Secretary.
The Commands of the Nigerian Air Force that may be affected by the shake-up are: Tactical Air Command; Mobility Command; Training Command; and Logistics Command.
The DRUs, by virtue of their functions, report directly to NAF Headquarters.
The units are: Nigerian Air Force Holding Company; Air Force Institute of Technology; National Air Defence Corp; Presidential Air Fleet (101 PAF); Aeromedical Centre (102 AMC); Pay and Accounting (103 PAG); Pesonnel Management Group (104 PMG); and NAF Camp Abuja (106 NAF Camp Abuja).
Others are: NAF Camp Abuja (107 NAF Camp Lagos); NAF Hospital Abuja (108 NAFH); Special Investigation Group (109 SIG); Aeronautical Engineering and Technical Services Ltd (AETSL); and Quick Response Force (QRF).

Nigerian Navy
For the Nigerian navy, its eight Command Headquarters are also expected to be affected by the shake-up. The naval command structure involves the Naval Headquarters; the Western Naval Command; the Eastern Naval Command; Central Naval Command; and the Naval Training Command.
Others are the Logistics Command, the Autonomous Command and the NN Air Arm.
Source: PUNCH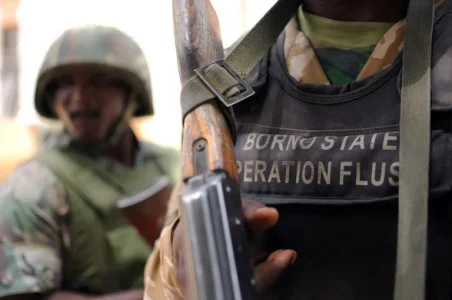 [42731]