The Nigerian Students Society, University of Leeds, U.K has raised fund for the Internally Displaced Persons, IDPs in the country.
The fund was raised during the grand finale of a cultural heritage festival lined up in celebration of the 56th anniversary of Nigeria's independence.
The festival which was tagged "Colour Me 9ja" was organised and held in the UK by the student association in order to promote the diverse Nigerian cultures.
Miss Amanda Umobi, the first Female President of the association and a 300L Law student, in her remark, enjoined all Nigerians to support President Buhari Change Agenda.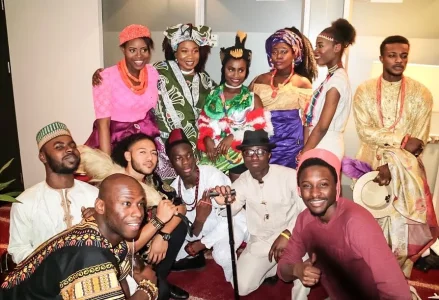 "We must collectively look at ways we Nigerians, whether at home and in diaspora, can help move Nigeria forward; that gives the reason for this fund raising. The total money raised tonight will be added with the total amount that we are expected to raise on the "Go Fund Me", Amanda said.
The vice president of the association, Mr.Victor Enedu urged President Buhari to consider more youth in his cabinet.
"Youths are the driving force for positive development if they are well engaged and as such, we should no longer be leaders of tomorrow", Enedu said.
The program was well-attended and among notable personalities at the event were: the CEO of Angel of Youth, Majestic Marvina; The Arsenal Fan TV Celebrity and ex-President of the association, Dr. Kelechi Anyikhude, Mr. Ikpe Abanga, and Mrs .Adebukola Adegbulugbe, Ramo Ayoka.