✅ NEW - get your business listed and your information shared across social media.
Five suspected pipeline vandals and oil thieves were on Saturday paraded by the Nigeria Security and Civil Defence Corps, NSCDC, in Rivers state.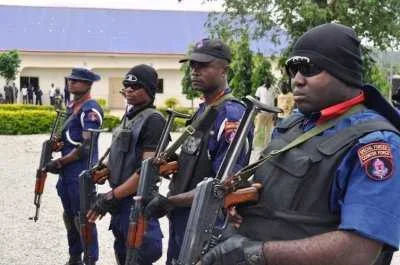 Operatives of the NSCDC had stormed a creek around Cutting Channel 2 in Okrika Local Government Area of the state through its intelligent report on oil theft and illegal refining sites, and the suspected vandals were arrested.
While parading the suspects before newsmen in the state, the Commandant of Rivers State NSCDC, Mrs. Helen Amakiri, said the command would not relent in its fight against oil theft.
Amakiri said operatives of the corps swooped on the creek in line with its mandate of exterminating oil bunkering in the region and the suspects were arrested with many rubber containers to scoop stolen refined fuel.
She said, "The suspects were arrested while they were carrying out their illegal activities on oil facilities in the area.
"So far, we got five of them on the spot where they were tapping into the pipeline and setting up an illegal refinery. They cannot overpower us. We will surely defeat them. We are working round the clock.
One of the suspects, Mr. Donatus Nwosu, confessed to newsmen that he left his boutique business in Aba to join oil bunkering because he needed more money to take care of his wife and two children, adding that he had never been involved in the breaking of pipeline.
Nwosu said he bought products from the thieves and went to Port Harcourt to sell them.
On his part, another suspect, Mr. Ebila Egedemhe, confessed to newsmen that he joined oil bunkering because he needed money to take care of himself.
He however denied that he was into pipeline vandalism.