Obesity is generally caused by eating too much and moving too little. What causes obesity? What are those things you should take care of to avoid being bigger than you should be? Below is a list of 15 items.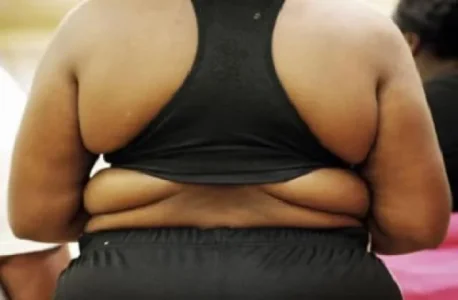 ---
1. Lack of Energy Balance: A lack of energy balance most often causes overweight and obesity. Energy balance means that your energy IN equals your energy OUT. Energy IN is the amount of energy or calories you get from food and drinks. Energy OUT is the amount of energy your body uses for things like breathing, digesting, and being physically active.
2. Lack Of Physical Activity: Being physically inactive is a one of the causes of Obesity. One reason for this is that many people spend hours in front of TVs and computers doing work, schoolwork, and leisure activities. In fact, more than 2 hours a day of regular TV viewing time has been linked to overweight and obesity.

Other reasons for being inactive include: relying on cars instead of walking, fewer physical demands at work or at home because of modern technology and conveniences, and lack of physical education classes in schools.

Lack of neighborhood sidewalks and safe places for recreation: Not having area parks, trails, sidewalks, and affordable gyms makes it hard for people to be physically active.

3. Work Schedules
. People often say that they don't have time to be physically active because of long work hours and time spent commuting. This consequently leads to Obesity.

4. Too Much Foods
. Obesity will set in when you are exposed to huge food portions of food in restaurants, fast food places, filling stations, cinemas, supermarkets, and even at home. Some eat meals and snacks can feed two or more people at a time. Eating large portions means too much energy IN. Over time, this will cause weight gain if it isn't balanced with physical activity.

5. Lack of Access to Healthy Foods
. Obesity sets in when there is no access to healthy and quality foods. Eating healthy foods, such as fresh fruits and vegetables nourish the body system well other than just taking in junks.

6. Food Advertisement:
Especially in developed metro cities, where adverts of high calorie foods, high-fat snacks and sugary drinks are more prominent, children are often the targets of adverts. The goal of these ads is to sway people to buy these high-calorie foods, and often they do.

7. Genes
: Your genes also may affect the amount of fat you store in your body and where on your body you carry the extra fat. Because families also share food and physical activity habits, a link exists between genes and the environment.

8. Family History
: Overweight and obesity tend to run in families. Your chances of being overweight are greater if one or both of your parents are overweight or obese. Children adopt the habits of their parents. A child who has overweight parents who eat high-calorie foods and are inactive will likely become overweight too. However, if the family adopts healthy food and physical activity habits, the child's chance of being overweight or obese is reduced.

9. Health Conditions: Some hormone problems may cause overweight and obesity, such as underactive thyroid (hypothyroidism), Cushing's syndrome, and polycystic ovarian syndrome (PCOS). PCOS is a condition that affects about 5–10 percent of women of childbearing age. Women who have PCOS often are obese, have excess hair growth, and have reproductive problems and other health issues. These problems are caused by high levels of hormones called androgens.

10. Medicines: Certain medicines may cause you to gain weight. These medicines include some corticosteroids, antidepressants, and seizure medicines. These medicines can slow the rate at which your body burns calories, increase your appetite, or cause your body to hold on to extra water. All of these factors can lead to weight gain.

11. Emotional Factors: Some people eat more than usual when they're bored, angry, or stressed. Over time, overeating will lead to weight gain and may cause overweight or obesity.

12. Smoking: Some people gain weight when they stop smoking. One reason is that food often tastes and smells better after quitting smoking. Another reason is because nicotine raises the rate at which your body burns calories, so you burn fewer calories when you stop smoking. However, smoking is a serious health risk, and quitting is more important than possible weight gain.

13. Age: As you get older, you tend to lose muscle, especially if you're less active. Muscle loss can slow down the rate at which your body burns calories. If you don't reduce your calorie intake as you get older, you may gain weight.
14. Pregnancy: During pregnancy, women gain weight to support their babies' growth and development. After giving birth, some women find it hard to lose the weight. This may lead to overweight or obesity, especially after a few pregnancies.

15. Lack of Sleep: Research shows that lack of sleep increases the risk of obesity. For example, one study of teenagers showed that with each hour of sleep lost, the odds of becoming obese went up. Lack of sleep increases the risk of obesity in other age groups as well.

People who sleep fewer hours also seem to prefer eating foods that are higher in calories and carbohydrates, which can lead to overeating, weight gain, and obesity.

Sleep helps maintain a healthy balance of the hormones that make you feel hungry (ghrelin) or full (leptin). When you don't get enough sleep, your level of ghrelin goes up and your level of leptin goes down. This makes you feel hungrier than when you're well-rested.

Sleep also affects how your body reacts to insulin, the hormone that controls your blood glucose (sugar) level. Lack of sleep results in a higher than normal blood sugar level, which may increase your risk for diabetes.
PS: This information put together as a guide are culled from health-related articles on websites, journals, and videos.
Last edited:
[951]