✅ NEW - get your business listed and your information shared across social media.
Vice-President Yemi Osinbajo says Nigeria has the best talents in the world and also makes the best jollof rice in the world.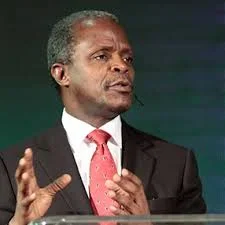 Speaking at the Platform convened by Poju Oyemade, senior pastor of the Covenant Christian Centre, Osinbajo said , ''We have everything, and our people are doing incredibly innovative things. For example, we are at the moment developing the most sophisticated animation technology in Africa," he said.
"Our music and entertainment industry is the fastest growing in the world. Nigerians have won every prize in literature, from the Nobel prize to the Pulitzer. Only last year, a Nigerian girl won a gold medal at the Olympics, Morolake Akinosun. Last Saturday, a Nigerian boxer won the world heavyweight title. Anthony Oluwafemi Joshua won the WBA becoming the boxing champion of the world.
"Last year Oluyinka Olutoye, a Nigerian surgeon successfully took out a baby from her mother's womb, operated on the womb, and put the baby back in, and the baby was carried full term and was born naturally — a feat previously unheard of.
"And of course, nobody is as funny as Nigerians, whether professional or amateur. We even have a member of the national assembly who recently launched a CD; Aje kun iya ni o je. Who hasn't heard of Aje kun iya ni o je.
"We are the most innovative entrepreneurs. The other day someone showed me a text; the young man had invited him to a book launch titled: Seven Steps to Becoming a Professional Whistleblower.
"And by the way, we all know that Nigerian jollof rice is the best! We beat the Ghanaians and the Senegalese hands down."