✅ NEW - car park, swimming pool, 24 hours light/security and more.
Super Eagles coach, Shaibu Amodu, has said that the Nigeria Football Federation(NFF) should have allowed Stephen Keshi to have completed the remaining qualifiers for the 2015 African Cup of Nations.
Amodu was last week appointed the interim manager of the Super Eagles, to oversee the remaining two qualifiers against Congo and South Africa.
But the former BCC Lions of Gboko coach is adamant that, Keshi would have qualified Nigeria for the 2015 AFCON championship if he had been given the opportunity.
The 56-year-old, however, expressed shock at being appointed the coach of the African champions in spite of telling the Nigeria Football Federation (NFF) to exercise patience in Keshi at the time.
"Personally, I believed that it was not over yet for my colleague, Stephen Keshi, because if enough patience was shown for him to prosecute the remaining two matches, I am sure he could have probably seen us through. That would have allowed us to appraise him properly.
"But a decision was taken even after I made efforts to allow my colleague to continue in the midst of the situation then. It seemed to me that superior reasoning prevailed over my own sentiment.
"I preferred to head the technical department having been appointed to that role three years ago. But I've been offered the (Super Eagles) job to salvage the situation despite making my position clear to the NFF president. We will do our best."
Both Amodu and Keshi worked as the Super Eagles coaches in 2002, helping to qualify Nigeria for the World Cup tournament that year.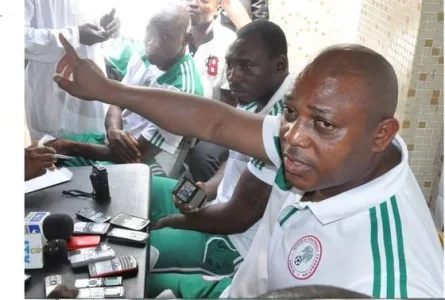 Last edited by a moderator: