✅ NEW - car park, swimming pool, 24 hours light/security and more.
The Code of Conduct Tribunal, CCT, in Abuja, has set March 10 for the Senate President, Dr. Bukola Saraki to appear before it to face corruption charges the federal government preferred against him.
Saraki whose appeal was thrown out by a seven-man panel of Justices of the apex court on February 5, is answering to a 13-count criminal charge bordering on his alleged false declaration of assets.
The apex court panel headed by the Chief Justice of Nigeria, CJN, Justice Mahmud Mohamed, had in a unanimous judgement, maintained that Saraki has a criminal case to answer, even as it upheld an earlier verdict of the Abuja Division of the Court of Appeal which okayed the Senate President for prosecution before the CCT.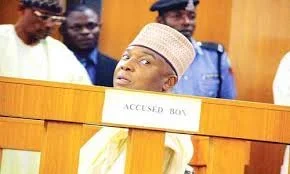 Meanwhile, according to PUNCH, findings have revealed that the Anti-Saraki senators, under the aegis of the Senate Unity Forum, had now regrouped and are perfecting strategies to draw local and international attention to the implication of Saraki still presiding over the affairs of the senate while facing criminal prosecution.
Some members of the group confided that they would not create any scene on the floor because the issue of removing Saraki as the senate president would be an uphill task since majority of the senators were of the view that the man is presumed innocent until otherwise decided by a competent court of law.
However, Marafa, the spokesperson of the group after the verdict of the apex court last Friday, demanded the immediate resignation of the senate president to enable him to concentrate on his trial at the Code of Conduct Tribunal.
Some pro-Saraki senators held a meeting last Sunday and decided to issue a statement declaring the full support of the upper chamber for the embattled senate president.
The pro-Saraki senators incurred the wrath of their colleagues in the SUF, when the statement, signed by the Chairman, Senate Committee on Media and Public Affairs, Senator Sabi Abdullahi, indicated that it was the position of the entire members of the red chamber.