Tobi Oseni, 22, graduated last year from Ladoke Akintola University of Technology, Ogbomoso, Oyo state, where he studied Management and Accounting. Rather than sitting at home waiting to be called for the compulsory one year National Youths Service Corps, he takes his time to teach students and young people on how to develop mobile app to solve the problems around them. He recently took this training to the remotest parts of the North, where he rekindled their hope of the knowledge of technology. He shares this and many more on Nigerian Bulletin Weekend Spotlight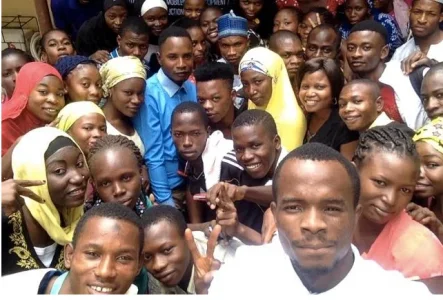 ---
I am a mobile app developer. I am committed to teaching young people mobile development in Africa. I have been carrying out this cause over a long period. I have a goal of training 100, 000 mobile developers before I am 25. And I have been able to introduce it to about 28, 000 young people so far into mobile development. I also ensure that over 30% of them have something running, and also ensure that up to 10% of them have work in progress.
2. Why is this a next step?
Why did you consider doing this?
I consider doing this because the future of computing is mobile and the future of Africa is by technology computing. And because of the number of mobile developers we have in the Nigerian space, I feel so sad that every time we need a mobile app, we have to ship it off to India and there are no Nigerians to collaborate with for mobile development. And so I took this up to volunteer with Future Nigeria on the Aiki Nigeria Project to train mobile developers. And it has been a wonderful decision so far.
3. You recently took this training to the North, how receptive are the students?
The students have been very receptive. When I took this training to the Northern Nigeria, I expected to see students who would have zero knowledge of computing, but no, even in far away Zamfara, a lot of them could use Microsoft office tools very well. So it was very easy for us to introduce them to the makers part of computing – for them to make what they use. I introduced over 2000 of them to computing development and lots of them are excited about this development. As a mode of continued training for the students, I also trained the teachers to continue with the training.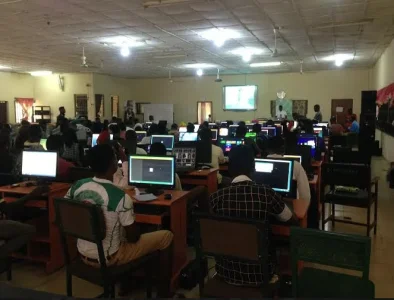 Have they been able to develop apps?
Yes, a lot of them have been able to develop apps. In our training sessions, we ensure that at least 10% of them leave that day with one app that does one basic function. For example, our last training in Lagos, all of them went home with their own android apps with basic contents. I am confident they are willing to redevelop that and also incorporate a few other things into their mobile app development.
4. Do you see this working? Considering the inaccessibility to learning materials in some parts of the country?
One way or the other, everyone in Nigeria has access to materials. Because we have access to internet. More young people are on Facebook, and other social networks. For instance, Facebook has about 80 million Nigerians; with chunk if it being young people. Out of this 80 million, if we say 30 million have access to Facebook, and they have access to the internet that they can use to learn, that's all they need for development. A lot of young people are going out of their way to learn. For instance one of our trainees in Imo state who got touch with me after a training said what he do is that he makes use of a Cyber cafe every sunday to learn more mobile app development. That's a good news because it means that there is accessibility to materials.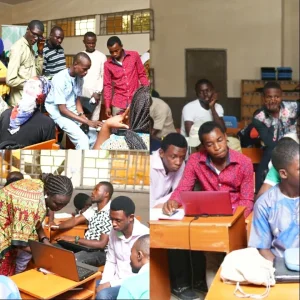 6. Do you have an app you've developed?
Yes, I work on a number of apps. I am currently championing a cause to use mobile app to collect data for agriculture, with support from International organisations to see how we can use mobile app to help farmers in rural areas collect data on how much water, food their plants and animals need.
7. What's the most lucrative app you dream to develop?
I am working on one of the biggest projects that I hope to develop – which is to use a mobile app to collect data, to save the planet, to reduce water wastage, for water conservation and also to reduce food wastage; and how much food humans and animals need – so we don't have to waste food. I also hope to do something on using mobile app to save energy.
8.
What are the 3 inventions you see the world making use of in the next 10, 15, 20 years, and : In the next 10, 15 years,
I see young people use mobile app for some other social purposes, for conflict and peace resolution and see how we can unite the world. To use mobile app to solve conflict in Sudan and Syria, and some other unsettled nations. I want to young people use mobile app to solve and boost government transparency and accountability and also that they do these things appropriately.
9.
What do you think is the greatest challenge in Nigeria's digital space and how can it be solved?
The problem with Nigeria's digital space is Knowledge. There are graduates in this country that cannot use Microsoft office. A lot of them had their final year thesis contracted to type for them. When you hear touching stories like this, it tells you that the curriculum is faulty, as well as its implementaion. If Universities still teach the old versions of FORTRAN, BASIC, etc – that is over 28 years old, then something is wrong. I hope to see Nigerian government revise the Education curriculum. Our colleges should start teaching with new models of development. Government should also consider Technological development as the solution to our problems.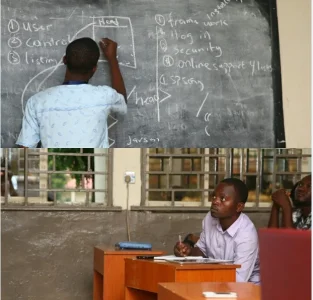 10.
Future aspirations?
I presently run a start up for mobile development, and also train people as developers. I aspire to see it grow into one of the key technology companies in the world, and as well be a leader in mobile app development.
[1702]