US Republican Presidential candidate, Donald Trump has accused President Barack Obama of founding the Islamic State of Iraq and Syria (ISIS).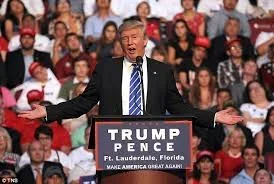 GUARDIAN UK reports that Trump made the remark at a rally in Sunrise, Florida. He said, "Isis is honoring President Obama. He is the founder of Isis. He founded Isis. And, I would say the co-founder would be crooked Hillary Clinton."
He repeated the allegation three more times for emphasis.
[884]