National Chairman of the All Progressives Congress (APC) Chief John Odigie-Oyegun said Friday that the government had to do away with the subsidy regime because it was evident that Nigerians were not benefiting from it.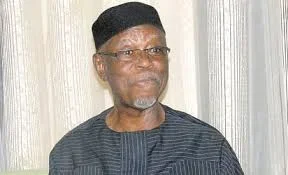 Addressing a news conference at the party national secretariat, Oyegun said a few Nigerians who had manipulated the sector over the years have continued to enrich themselves from proceeds of the subsidy regime in the country, adding that it was high time the government free the economy and allow the forces of demand and supply take place.
While appealing for understanding of organised labour and their civil society allies as well as the Nigerian public over the increase, the APC Chairman admitted that the price increase will force increased hardship on the Nigerian people, but was quick to add that the "economy is being freed in a way that the ordinary Nigerian will become the major beneficiary".
Oyegun said: "I invited you because of the fundamental announcement that was made within the last 24 hours because I wanted to join my voice with that of the Minister to appeal to the Nigerian public, to our unions and other civil society groups for understanding of the situation that has led to the partial deregulation of fuel prices.
"Yes, Nigerians have a right to subsidy on that one natural resource that the good Lord has endowed us with. But there is no question at all that over time. The subsidy regime has become so intensely manipulated, so abused that it really was no longer operating in the interest of the Nigerian public.
"I think that it has become very clear that the kind of queues that has become endemic over several regimes in this nation is a clear indication that something has gone seriously wrong with the subsidy regime. Those who were privileged were exploiting it to amass more wealth.
"Meanwhile, the person for who it is basically meant has to bear the cost in higher transport fare. Each time these queues develop, of course the ordinary Nigerian bears the cost while the importers and manipulators of the system are the ones that make all the money.
[1026]