✅ NEW - get your business listed and your information shared across social media.
Here are list of activities that happened within President Muhammadu Buhari-led federal government on Tuesday.
1. Vice President Osinbajo met with Bangladeshi Chief of Army Staff, General Abu Belal Muhammad at the State House in Abuja.
2. Minister of Mining and Steel Development, Kayode Fayemi toured mining sites in Ebonyi State.
Presidential Advisory Committee Against Corruption (PACAC) commenced Capacity Building Workshop on Drafting Charges for State Prosecutors in Enugu State.
3. Enabling Business Environment Secretariat (EBES) released the 60-Day National Action Plan Report Card on Ease of Doing Business in Nigeria.
4. Nigeria Center for Disease Control (NCDC) organized Media Orientation Session on meningitis.
Ministry of Petroleum Resources held its monthly Governance Meeting.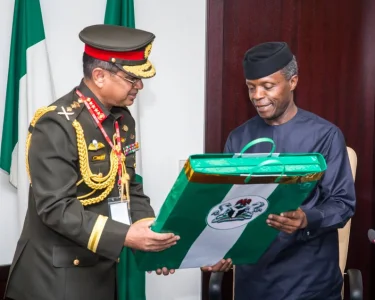 5. Nigeria Extractive Industries Transparency Initiative (NEITI) held Template Workshop on the 2015 Oil and Gas industry audit in Lagos.
6. World Bank issued a statement applauding Minister of Power, Work, and Housing, Tunde Fashola's Power Sector Recovery Plan.
7. Nigerian Army Chief of Staff, Lt. General T.Y Buratai received a rosy welcome by Brazilian Army Headquarters in Brasilia.
8. Interim Management Team for Bank of Agriculture inaugurated by Minister of Agriculture and Rural Development, Audu Ogbeh in Abuja.
9. Office of the Director-General of the National Agency for Food and Drug Administration and Control (NAFDAC) is now on Twitter- @DGatNAFDAC