Internally displaced persons in Adamawa State who received food and relief items in December put religious and sectarian differences aside to thank their benefactors and pray for them.
Medicines, blankets, vegetable oil, spaghetti, seasonings, salt, sugar, and rice that the IDPs received were bought with donations from three prominent philanthropists: Alhaji Mohammed Indimi, Alhaji Aliko Dangote, and the AUN Founder, Atiku Abubakar.
At Churches and Mosques in Jimeta-Yola, and at other distribution points in the seven Local Government Areas most hit by the insurgency, grateful IDPs offered prayers for the donors, as well as for the members of Adamawa Peace Initiative, for continuously supplying the breadlines, even as Governments and local NGOs battle to contain the humanitarian crisis the northeast region of the country.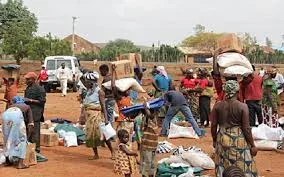 The AUN Founder, Atiku Abubakar has been a leader in supplying continuous financial support for the IDPs since the University's involvement with their feeding more than a year ago.
At the St. Theresa Catholic Cathedral Church, Jimeta, where 15,500 families were served in three distributions, a Muslim woman, Amina Mamman, joined the Bishop of Yola Catholic Diocese, Dr. Stephen DamiMamza, in leading prayers for peace in Nigeria and in expressing appreciation to those who made the donations to support IDPs in the state.
Six hundred families received food and relief items at the Adamawa State headquarters of JamatuNasril Islam, in Jimeta, on December 13, where JNI officials GamboJika and Fadimatu Ahmad Marafa led IDPs to offer prayers.
Meanwhile, AUN President, Dr. Margee Ensign, who chairs the API, said the organization has initiated numerous programs in the community to benefit both indigenes and IDPs. "We have the all-year-long 'Peace Through Sports' program, two major income-generating projects for community women, and a new literacy program christened 'Technology Enhanced Learning for All'."
Under the literacy program funded by the US Government, 20, 000 vulnerable youth, including out-of-school children, displaced children, and those disadvantaged in schools who are not now learning how to read, will benefit.
"It has not been an easy year, or an easy Christmas, in this part of Nigeria," she concluded. "But there has always been hope, there has always been remarkable generosity, and, as befitting this season, there has always been goodwill."
[2057]