A Chibok school girl who was kidnapped by Boko Haram terrorists recently escaped from their grasp.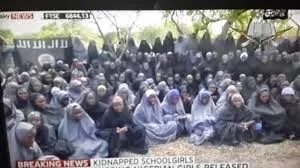 There were indications weekend that many of the 200 girls of the Government Secondary School, Chibok abducted in April 2014, are alive and holed up in the Lake Chad region of the North-East epicentre of the battle to dislodge Boko Haram terrorists from Nigeria.
Sources disclosed to Saturday Vanguard that the girls who were relocated from the initial Sambisa Camps of the terrorists, following unrelenting bombardments by air and land operations, have been relocated to Lake Chad area with some of the girls spread along border communities.
Saturday Vanguard gathered that about two weeks ago, one of the abducted girls who was formerly kept in a Sambisa forest camp, escaped from the hands of the abductors and ran into the hands of some Fulani herdsmen. It was the Fulani herdsmen having confirmed that the girl was a Chibok girl, who assisted her to get to the Baga military base of the multi-national Joint Task Force.
At the Baga base, the escapee girl was said to have confessed that many of them were forcefully married to the terrorists who not only impregnated them but infected some of them with different diseases. On her part, she was not only impregnated, but she got the VVF disease from one of the terrorists.
Click here to read more
SOURCE: VANGUARD
[8284]