Emir Muhammadu Sanusi II has gone from being one of Nigeria's most revered traditional rulers to its most embattled traditional ruler. There are whispers everywhere – will lightning strike twice in the same place- will the Emir be deposed like his grandfather, Muhammad Sanusi?
Already, the Kano anti-corruption agency claims to have an airtight case against the Kano Emirate, which is presided over by Emir Sanusi II. The Kano State Assembly also organise a committee to investigate the Emir.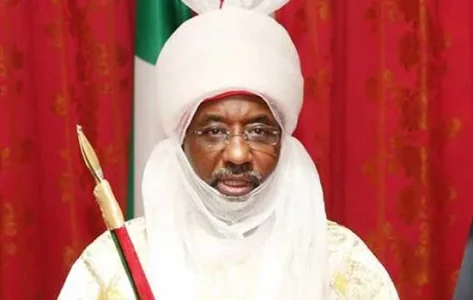 Popular opinions suggest that the Emir will deposed. Others say his powerful friends will come to his rescue.
Sanusi and His major controversies
The Emir is no stranger to controversy, as it has trailed throughout majority of his life. It is because of controversies why he is the most popular traditional ruler from the North.
1. The beheading of Gideon Akaluka
Sanusi is one of those fingered in the 1995 beheading of a trader, Gideon Akaluka. It is alleged that Sanusi and several other jihadists beheaded Akaluka and paraded his bodiless head around the streets of Kano after his wife was accused of desecrating the Koran.
He was allegedly saved from paying for his crimes by Alhaji Umar Mutallab, former Chairman of First Bank and father of Underwear Bomber, Umar Farouk Abdulmutallab, who took him under his wings and steered him towards a career in banking.
2. CBN
In 2009, Sanusi was appointed Governor of the Central Bank of Nigeria, CBN. His tenure was filled with multiple controversies
· Islamic BankingSanusi came under fire for allegedly trying to Islamise Nigeria after he made moves to introduce Islamic banking into Nigeria. Although he insisted that it had nothing to do with Islamic beliefs, CBN described the planned introduction as "a ploy to turn Nigeria into an Islamic country."
· Bank reforms
Immediately after his appointment as CBN Governor, he carried out banking reforms popularly known as 'Sanusi tsunami.' Many claim that these reforms signified a personal war against bank CEOs; others claim it was a war against the South.
· Missing 20billion
As CBN Governor, Sanusi woke up one morning and claimed that 20billion USD of oil money was missing. He granted interviews, pointed fingers at the NNPC, the petroleum minister, Diezani Alison-Madueke and the Goodluck Jonathan administration, accusing them of theft. This was the controversy that led to his exit from office. An audit by PWC later stated that no money was missing.
3. Gamji articles
For years, the Emir has written loads of articles posted on Gamji, defending Sharia and the feudal system up North. In an article:
http://www.gamji.com/sanusi/sanusi8.htm
the Emir defended the introduction of Sharia to Zamfara.
4. Appointment as Emir
Sanusi's appointment as Emir was unexpected. Many say his appointment was politically motivated so he could be immune for prosecution for his 'bad behaviour' at the CBN.
5. Hajj Stampede
After the Hajj Stampede in 2015, the Emir was in the news again for saying that refusal to perform the stoning of the devil would not in any way invalidate one's pilgrimage. He was harshly criticised by Islamic scholars.


6. Ese Oruru
During the Ese Oruru abduction saga in 2016, the Emir's name popped up. It was alleged that he was aware of her abduction and marriage to abductor Yunusa. Although he publicly denied supporting the abduction and marriage, the Emir was accused of turning a blind eye and not doing enough.
7. Young Bride
The Emir's latest wife, Sa'adatu Barkindo-Musdafa, the daughter of the Lamido of Adamawa, Muhammadu Barkindo-Musdafa is still a teenager. In 2015, when PREMIUM TIMES first broke the news, there was mass outrage. Emir defended himself by writing an epistle on how he should be allowed to practice his religion in peace.
8. Criticism of the North
The Emir has spent the past few months critiquing northern leaders and their various methods. He has complained about Sharia in Zamfara, early marriage, poverty and poor education in Northern Nigeria. His criticisms are said to be responsible for his current probe, although the official reason is ''financial misappropriation.'' The Emir is keen on criticising things he once endorsed or turned a blind eye to.
Emir Sanusi's Present Woes
The Kano State House of Assembly is probing the Emir on 4 major grounds:
· Embezzlement of Kano Emirate funds
The decision to probe the Emirate was supported by an overwhelming majority in the State Assembly. Emir Sanusi is accused of mismanaging N4 billion he inherited from Ado Bayero, his predecessor. He's also accused of reckless spending.
· Attacking the polices of the administration of President Muhammadu Buhari
The Emir of Kano has criticised President Buhari's economic framework and naira policy. His criticism is harshly viewed by the Kano assembly. They're accusing him of posturing and planning to support another candidate in 2019.
· Downgrading the honour of the Kano Emirate Council by sending his daughter to represent him at a function without wearing full traditional regalia.
Emir of Kano was represented by his daughter, Shahida Sanusi, at the BBOG third anniversary lecture for missing Chibok girls in Abuja. Alhaji Ibrahim Ahmad Gama, a lawmaker representing Nassarawa Constituency in the Kano State house of assembly, raised alarm over Shahida's dressing. He said, "There are many responsible members of Kano emirate council that can represent Emir at the event instead of his daughter. This is the first time we are witnessing this kind of representation in the history of Kano emirate council. The mode of dressing of Emir's daughter at the event was an embarrassment, not only to the emirate council, but the entire people of Kano."
· Accusing the state Governor, Dr. Abdullahi Umar Ganduje, and the state legislators of mismanaging state resources.
Emir Sanusi accused Kano lawmakers and governor of wasting state funds and not doing enough for their people. He publicly criticised their move to construct a light rail system in the state in partnership with China.
"We have governors; they go to China and spend one month on a tour and what do they come back with, MoU (Memorandum of Understanding) on debts. China will lend you $1.8bn to build light rail. This light rail will be done by the rail workers from China. The trains will come from China. The engines will come from China. The labour comes from China. The driver is Chinese.
"At the end of the day, what do you benefit from it? Your citizens will ride on a train and when you ride on a train, in northern Nigeria, in a state like Kano or Katsina, where are you going to? You are not going to an industrial estate to work. You are not going to school. You are not going to the farm. You borrow money from China to invest in trains so that your citizens can ride on them and go for weddings and naming ceremonies."
Sanusi's Actual Crime
Saying the truth to power is the reason why Sanusi is being prosecuted. The Emir is on trial for his loud criticism of the North and its leaders. He's on trial for reminding the North why it has the highest poverty rate; he's on trial for questioning religious practices in the North.
He has spent the last few months delivering scathing speeches about the North and soaking in the applause from the International community. The West, which has always been fascinated by the North and its leaders became more interested. They placed more microphones before him and encouraged him to speak.
"I still believe that conservative Muslims are still stuck in the 13th Century and their claim that children need no other knowledge than Islamic studies flies in the face of reality. All the poverty, under-development and immense suffering in the North are a result of uneducated masses refusing to learn work or a trade. The majority of technicians in Kano are from the South while untrained indigenes beg,'' Emir Sanusi thundered on.
Speaking at the Mo Ibrahim Forum in Marrakesh, Morocco, Emir Sanusi accused Northern leaders of using religion as a tool to get power.
''Zamfara state started Sharia in Nigeria; it has the highest rate of poverty in the country today. It's a matter of time for people to realise that this is all deception, this is all politics, this is not religion; it is about politicians appropriating religion as a discourse for getting into power," Emir Sanusi said.
He linked polygamy to poverty and announced that he was going to stop poor men from marrying more wives than they can cater for.
"We have all seen the consequences of men who cannot maintain one wife, marrying four, producing many children. A family law which would address the concerns is coming,"
"It will outlaw forced marriage, make domestic violence illegal, set out modalities before you can marry a second wife,''the Emir said at the 50th anniversary of the demise of former Nigeria High Commissioner to Ghana, late Ambassador Isa Wali.
On early marriage, Emir Sanusi said, "Are we still living in the era when fathers can force their daughters into marriage without their permission? Yes we are. Early marriage? Yes, in Nigeria, and it is hurting and destroying our society. We are the ones to address these social issues because they are problems. Taking her out of school and forcing her into marriage without education results in having a child who does not have a mother that can give the child proper training.''
The Hypocrisy of Sanusi's Fight:
All points raised by the Emir of Kano in criticism of the Northern establishment are valid. Northern Nigeria has the highest poverty rate in the country, the highest number of 'out of school children', the highest number of child brides and the largest percent of unskilled citizenry.
In 2016, UNICEF ranked Nigeria 14th in a list of countries where child marriage is still practiced. According to the report, 43% of girls in Nigeria are married off before their 18th birthday. 17% are married before they turn 15. Child marriage was found to be more prevalent in the North with figures as high as 76% in the North West region and as low as 10% in the South East.
40 percent of Nigerian children aged 6 to 11 do not attend any primary school, with the Northern region recording the lowest school attendance rate in the country, particularly for girls [UNICEF].
Northern Nigeria has the highest number of billionaires in the country and the highest number of commoners living in poverty. This poverty is directly linked to cultural practices and low education rate. According to United Nations Global Multi-dimensional index, Yobe and Zamfara states have >90% poverty rates. Kano state has a 76.4% poverty rate.
Northern Nigeria is also one part of the country where one can hardly distinguish between religious and cultural practices; thus leading to massive exploitation of the people by greedy politicians.
The Emir may be right in his call, but many would describe him as a hypocrite. Over the past few months, Emir Sanusi seems to have had an epiphany. Young people would say "the Emir suddenly became 'woke'."
What is the driving force behind the Emir's awakening? – 2019 elections? All the issues raised by Emir Sanusi have always been in the North. In fact, they could be said to be part of the Northern image. When did the Emir stop believing in Sharia?
For someone accusing political office holders in the North of preying on the poor, Emir Sanusi has really lavish taste. Like the Emirs before him, Sanusi lives lavishly and is not afraid to flaunt it. When does he intend to respond to the challenge issued by Tanko Yakasai and Zamfara state Governor, Abdulaziz Yari. Both men dared him to put a part of his income into developing the North.
For someone who claims to abhor child marriage, Emir Sanusi showed it in a fine way, by marrying a teenager. He may claim that she was 18 at the time of marriage, but that in no way excuses his actions. How many 18 year olds are mentally ready for marriage if they're not specifically groomed for it? If the Emir still sees nothing wrong in his actions, why was his daughter, Shahida allowed to finished college before marrying her peer? Was there a scarcity of eligible old men up North when she turned 18?
The North needs a voice, but Emir Muhammad Sanusi II is certainly not that voice. The north needs someone who believes in the region and is not interested in political posturing. The North needs a clear, strong voice, but first, "He who comes into equity must come with clean hands.''